Tool review: Veritas flush-cutting chisels
The Veritas flushing chisels have a long, flat blade with anangled, threaded insert for the replaceable handle.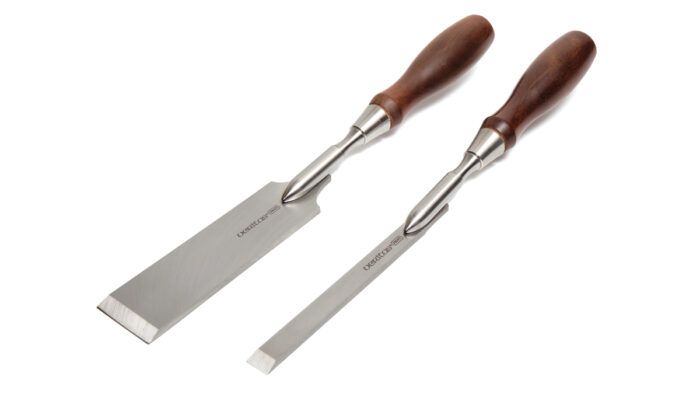 Owning specialty chisels (fishtail, skew, mortise, etc.) can feel like a luxury. Often, with just a little more work, you can make regular bench chisels work just fine for the job at hand. There is one area where I need a specialty chisel, though, and that's flush paring. The new flush-cutting chisels from Veritas are spectacular. I've tried other paring chisels—all of which were generally bench chisels with longer handles—and been disappointed. The Veritas flushing chisel, however, has a long, flat blade with an angled, threaded insert for the replaceable handle. This long blade is a fantastic reference surface and the angled handle gives you great control while allowing you to reach where other chisels or planes cannot.
The backs were flat out of the box. I put these chisels through their paces over a month making multiple booths for a restaurant. The booths are constructed with various types of plywood and solid white oak and several corners in which odd angles intersected that needed exactly this kind of tool. The PM-V11 steel held a fantastic edge.
The handle came loose a few times as I twisted my wrist and the tool to remove the waste, but it wasn't so bad as to sour me on the tool.
—Adam Godet is a furniture maker in Washington, D.C.
Photos: Shawn Bruce 
From Fine Woodworking #288