Interesting dovetail layout tools
Do your dovetails go wrong at the dreaded "transfer?" If so, collinear marking might be the answer you've been looking for.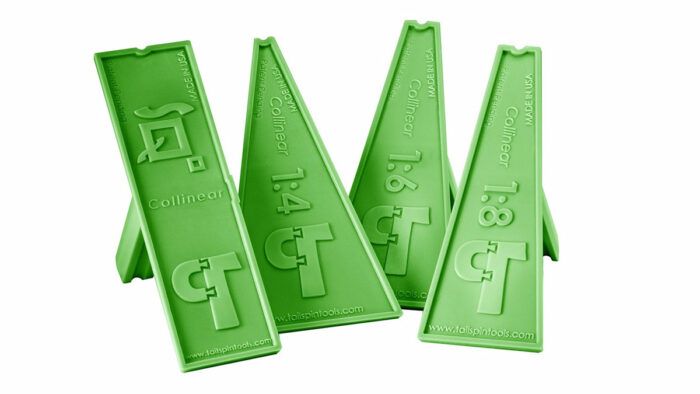 A few months ago, I received an email from a manufacturer asking if they could quote something I said on Shop Talk Live, our podcast. This has happened before, and I always want to make sure it isn't viewed as an endorsement of a product. The quote they were hoping to use was ""Outside of sawing technique, most dovetailing issues can be traced back to a bad transfer from the tail board to the pin board." I have likely said that many times on the podcast, so I can't deny that one! Go ahead, I'll stand behind that quote.
Whether you start pins first or tails first, the transfer between the two is the make or break spot for your dovetails. I would bet that most dovetail tips and tricks you see online are based around that very moment in the process. Christian Becksvoort uses a piece of wood in the drawer bottom groove to hold everything in place. FWW editor Michael Pekovich has his cool guide blocks to help align everything. Steve Latta is a fan of the rabbet to give you a ledge to hold the board against, and Megan Fitzpatrick uses her "Moxon Vise Support" to hold everything in place. There are certainly lots of tips to handle this most delicate of processes, but all of them have one thing in common–you are transferring from a pin board or tail board that is already cut. The upside of this is that if your cuts on the first board aren't perfect, you now have a chance to match them on the second board. The downside—like I've said enough to be quoted—is that this is where it goes wrong for most people.
So what if you were able to lay out your tail board and your pin board in advance? I think every woodworker has had this thought and for some reason or another, no matter how careful you are, the layout just doesn't match up. Well, TailSpin tools might have the answer–collinear marking. The video below will explain it better than I can, but I'll try to give you the simple version. When you mark a line off of a ruler, the line never winds up EXACTLY next to the ruler. There is always some offset. The TailSpin tools have that offset built into them, so the line winds up exactly where you want it.
So, forget everything you know about your dovetailing workflow. If you're already using a saw guide to cut dovetails, this system really makes sense. I have messed with the TailSpin collinear marking tools, and they really do what they promise. The lines wind up exactly where they are supposed to. I think that the change in workflow might be too radical for some, but for many, collinear marking might be the answer they've been looking for.