All about router bits for patterns
Bits for pattern routing can vary in important ways, such as bearing placement, size, and cutter orientation. Bob Van Dyke's choice boils down to quality of cut and affordability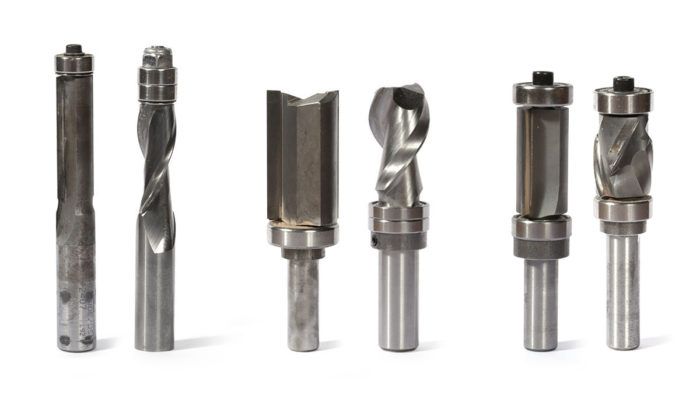 Bits for pattern routing can vary in important ways, such as bearing placement, size, and cutter orientation. My choice boils down to quality of cut and affordability.
Flush-trimming bits, with the bearing at the tip, are a safer option because the cutting action is below the template. So I use these when I can. Straight bits are the cheapest of the bunch. But because they don't always leave a passable surface in solid wood, I use them mostly for plywood or MDF. I prefer spiral bits (at right) for solid wood. Although they are more expensive, their shearing action leaves a cleaner surface.
Pattern bits have the bearing at the shank, making them handy for jigs where the template is below the workpiece. I often use a large-diameter pattern bit (at left in photo) on solid wood, since its extra mass helps reduce tearout.
When I want a large-diameter pattern bit with a spiral cut (below), I take a page from my friend Will Neptune's book and make my own, slipping two bearings and a bearing lock onto the shank of a 3/4-in. spiral bit. I recommend using two bearings in case one of the bearings seizes up, which I've had happen.
Combination bits have bearings at both the tip and the shank, making them a very convenient option. With these over/under bearings, you typically won't need to switch out your bit to accommodate whether your template's above or below the workpiece. Here they are pictured with straight and compression cutters. Compression bits (at right in photo), available with flush-trimming, pattern, and over/ under bearings, leave an even cleaner surface than spiral bits. If they weren't so pricey, I'd use these bits all the time.
-This is an excerpt from, Pattern routing jigs for perfect curves, in Fine Woodworking issue #283.
| | |
| --- | --- |
| | Bob Van Dyke shows how to make and use some of his go-to pattern routing jigs: a reusable jig for gentle curves, a half-pattern for tight curves, and a template that attaches directly to the workpiece. |
| | |
| | |