Workshop Tip: Straight router bits drill big, clean holes in wood and plastic
Sometimes the best drill bit is a router bit.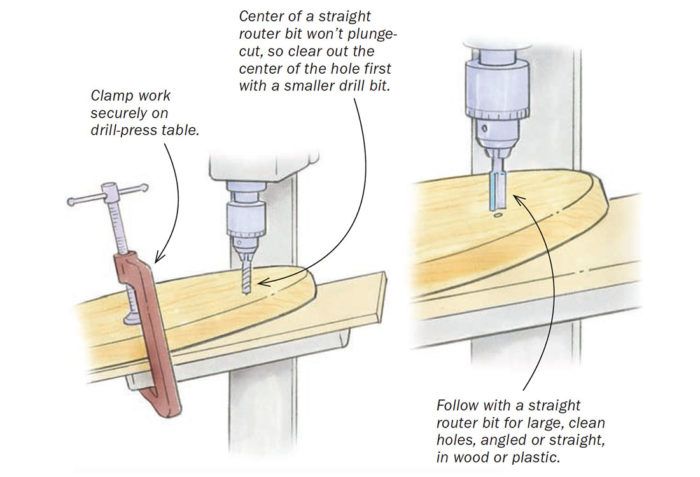 I recently made an oak bench with angled legs, and I tried drilling the angled holes in the seat a number of ways. The best drill bit turned out to be a straight router bit. Since these don't cut to the center, I first drilled a smaller hole with a regular bit and then used the router bit to finish the job. It worked really well, delivering cleaner cuts than a hole saw, spade bit, or even a Forstner. I used the same technique to bore large holes in a sheet of Lexan, again with flawless results.
For safety reasons, I would only try this in a drill press, never freehand, and clamp the work down securely. Also, I increased the drill press speed to 1,000 rpm for both the oak and the plastic, which worked great. Last, if a 1/2-in. router bit shank won't fit in your chuck, try a 1/4-in. shank.
—DAN SWEENY, Westlake, Ohio
Illustrations by Dan Thornton
From Fine Woodworking issue #280