Webinar: Uncommon Arts and Crafts with Jon Binzen
Replay Join deputy editor Jon Binzen for a fascinating look at less-familiar furniture of the Arts and Crafts era.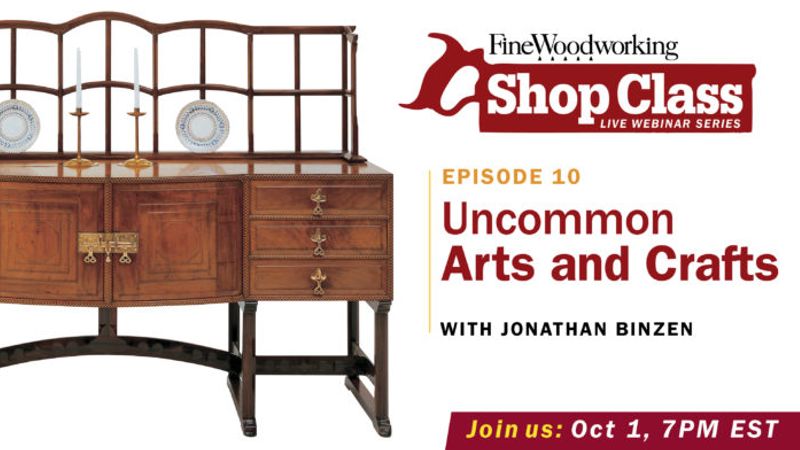 Stickley, Craftsman, Mission Style: these names and the solid, rectilinear furniture they describe represent the vast majority of Arts & Crafts furniture made in the U.S. during that movement's heyday from 1895 to 1915. But during the same period in a range of small shops in America and Europe makers drawing on the same Arts & Crafts philosophy produced furniture that was far different—still solidly functional, but much more personal, adventuresome, and stylistically distinctive. Fine Woodworking's deputy editor, Jon Binzen, who co-wrote Arts and Crafts Furniture, a history tracing the international dimensions of the style, presents in this webinar a rich assortment of the less-familiar furniture of the Arts and Crafts era, along with background on the places and people who produced it.
---
Here's a wonderful video about Lawrence Neal, a chairmaker still at work in the Cotswolds whose lineage traces right back to Ernest Gimson and Philip Clissett in the early days of the Arts & Crafts movement. Gimson learned ladderback post-and-rung chairmaking from Clissett, and went on to design many chairs in the traditional style. Gimson's chairmaker for many years was Edward Gardiner, and he eventually passed on his skills and his business, along with all of Gimson's chair patterns, to his longtime assistant, Neville Neal. And Neville Neal passed all of the same on to his son Lawrence. It's a privilege to get a glimpse of Lawrence's shop, his processes and tools, his chairs, and his thoughts about the craft.
---
Jon's book list:
English Arts and Crafts Furniture: Projects and Techniques for the Modern Maker – Nancy R. Hiller
An excellent writer and a London-trained furnituremaker who specializes in building Arts & Crafts pieces, Hiller presents an engaging discussion of movement and its makers. The book is based around three of her favorite pieces, a CFA Voysey "two heart" chair; a sideboard by Harris Lebus; and a hayrake table by Ernest Gimson; she gives step-by-step instructions and photos for building each of them, and drawings for each.
Shop Drawings for Byrdcliffe Furniture – Robert W. Lang
A longtime furnituremaker and a former editor, writer, and illustrator for Popular Woodworking magazine who has produced a number of books of measured drawings of Arts & Crafts era furniture, Lang presents here drawings of pieces made at the Byrdcliffe art colony in Woodstock, NY.
Ernest Gimson: Arts & Crafts Designer and Architect – Annette Carruthers, Mary Greensted, Barley Roscoe
A thorough biographical portrait and a deep dive into Gimson's work in furniture, metalwork, plasterwork, and architecture, with lots of excellent new photos as well as archival shots.
Good Citizen's Furniture: The Arts and Crafts Collections at Cheltenham – Annette Carruthers and Mary Greensted
Based on the superb Arts and Crafts furniture collection at the Cheltenham Museum, which rich with work from the Cotswolds.
Edward Barnsley and His Workshop – Annette Carruthers
A fascinating biography of the maker who linked the Arts & Crafts era with the crafts revival of the 70s.
Arts and Crafts Furniture – Kevin P. Rodel and Jonathan Binzen
A history of the movement tracing its international scope.CFA Voysey: Arts and Crafts Designer – Karen Livingstone, Max Donnelly, Linda Parry
There are a number of good books on Voysey's architecture (I especially like the one by Wendy Hitchmough); this one focuses on his furniture, metalwork, and textiles.
The Artistic Interiors of Charles Rohlfs – Joseph Cunningham
Excellent photography and documentation of Rohlfs's furniture.
If anyone wants suggestions for books on other makers of the era, email me
at [email protected]