The woodworking clamps you need
It's true that you can't have too many, but you can have too many useless ones. So here's Megan Fitzpatrick's take on what clamps you need, in the order that she uses them most.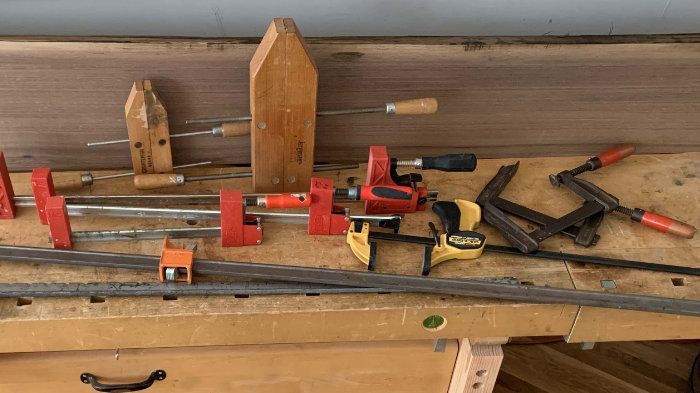 I've recently received a surprising number of questions about clamps – probably because with time at home, people are building things. And while I think it's true that you can't have too many, you can have too many useless ones. So here's my take on what clamps you need in a typical woodworking shop, in the order that I use them most. Note that most of what I build is on the large side, so your needs might vary.
Parallel-jaw clamps (also known as K-bodies and cabinet clamps)
These are the workhorse clamps in the shop where I teach. I like the large jaws (though I often use just the tips to apply pressure to a specific point when gluing up dovetails), and I like that they sit flat on a bench (or on the floor), which makes them awfully useful for panel glue-ups. You can press all the pieces down flat to the bars as a good starting point to align the workpieces. We have them ranging in lengths from 12 in. to 50 in.; we have the most (12) in the 26-in. length. The two largest purveyors of this style of clamp are Bessey and Jet. The handles on the old Besseys are wood, so you can drill a hole through those to add a tommy bar to tighten them a bit more easily; on the newer Besseys, the (I think hollow) handles have a grippy surface which helps with tightening. But I prefer the older wood handles. The Jets have a faceted handle, and can thus be more easily gripped and tightened. I prefer the Jets, but either are fine for most jobs. (One of the nice things about the Bessey clamps is that if they start to slip, you can adjust them by inserting an Allen wrench into the little hole behind the handle on the lower jaw – turn the set screw about a quarter turn to expose new threads.)
Bar clamps
Old iron bar clamps – particularly those with the saw-tooth pattern to locate the jaw – are excellent. Thanks to the offset handle, you can exert far more pressure with these than with K-bodies, so they're indispensable for large, heavy-duty work (such as gluing up a workbench top) or pulling tight joints home (not that you should do that…), or closing up jigs when bending. They also work fine on smaller work, but they weigh a lot – so I usually reach for the K-bodies unless I need to exert extra pressure. We have about six of these clamps, all in 50-in.-plus lengths (and if I ever see them for a decent price at a yard sale or antique store, I'll snap them up). There are also newer, aluminum bar clamps, and there are all sorts of ways for making these stronger (they bend easily under not much strain). But I'd rather stock up on K-bodies and vintage bar clamps.
Pipe clamps
These are inexpensive, which makes them attractive. They weigh a ton, which to me is unattractive, plus the jaws on most of them are pretty small, which limits their usefulness. Get 3/4-in.-diameter pipes; the 1/2-in. aren't rigid enough for large-scale work. (And if you can, get rubber pads to cover the jaws, or epoxy some scrap on the jaws. The metal jaws on these will bugger your work – fast.) Even though these aren't my favorite, I inherited a decent selection of longer lengths that I use at home, most often for house renovation work. I bring them to the Lost Art Press shop when I'm teaching an English tool chest class, though, because we need all the long clamps we can get for that class. One thing to keep in mind if your clamps are raw iron: they will stain your work (especially if it's oak). So take care. (I know lots of people like these because couplers allow you turn short clamps into longer ones. But when they get too long, they're awfully heavy and unwieldy. Still, if needs must …)
Hand screws
These might seem old-fashioned, but they're great to use as vises, say for holding work on edge on the bench. I also use them a lot for exerting pressure in a specific spot. You can easily cut notches in the jaws for holding odd-shaped work. I have maybe eight at home in various sizes, and we have about the same number at the shop. The largest sizes come in handy most often – either as an ersatz twin-screw vise or to hold work on edge. The smaller ones see some use to hold odd-shaped pieces at the bandsaw.
F-style clamps

Honestly, I most often use these to clamp things to my bench at the edge when a holdfast won't reach. But they're great for gluing up small work and exerting pin-point pressure (say to close a shoulder in a dovetailed drawer box). I do wish we had a few more deep-reach F-styles – those are handy for gluing on the top dust seal on a tool chest (I build a lot of tool chests). The ones that get the most use around here are the tiny ones. The best ones? Old ones, with heavy castings and deep Acme-thread screws.
One-handed clamps (also known as ratcheting clamps)
I typically use these to attach fences to the tablesaw or to hold things in place while I use two hands to apply a stronger clamp. Still, it's nice to have a handful around.
Spring clamps
We have a lot of these, but I typically use them only to hold things in place during a one-person glue-up when I need an extra hand. But they're made to fit the average man hand, so I can't actually use at least half of ours one-handed, which makes them kind of useless to me. And the ones I can use with one hand exert only a little pressure, so they don't hold things in place very well. But they do come in handy from time to time.
Nails
When applying moldings, it almost always easier to shoot a few brads into the work than to try to clamp it in place.
Strap clamps
Because I'm almost always building square casework, I don't often need a strap clamp – I use these so rarely, in fact, that I'm not sure where we store them; I always have to ask. But if I were building demilune tables, I'd want to know where they live.
Yes, there are all sorts of other clamps, including specialty clamps for miters and the like – but we don't use them much. Again, your needs may vary, but the above clamps are sufficient for the wide variety of work that goes on where I teach, and for all my work at home, whether on furniture or on my house.
---