Don't build a new workbench
Chris Schwarz demonstrates how to improve any existing bench with a few inexpensive pieces of wood and steel.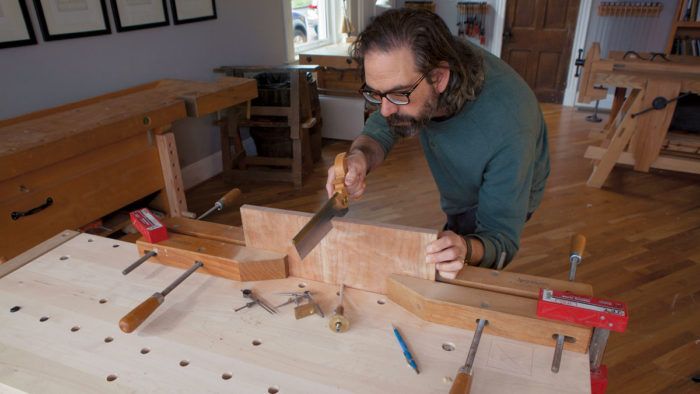 Synopsis: If your workbench is less than perfect but you'd rather spend time making furniture and not a new bench, there are plenty of ways to improve your bench while spending little to no money. Here are tips on how to fix a wonky bench, immobilize it, add clamping surfaces, give your vise more grip, hold your work securely, and even how to work without a vise.
---
A new workbench—with tons of mass and new vises—is a tempting idea when you're struggling with an inherited or entry-level bench. If you love building workbenches, go ahead and build the bench of your dreams. But if you prefer building furniture, there are a dozen inexpensive or free ways to improve any existing bench.
Most of these improvements involve only a few scraps of wood and metal—and rethinking what a good working bench should look like.
End the wobble
Many entry-level benches sway during heavy planing or sawing. This swaying makes you work harder and reduces your accuracy when sawing. If the bench is bolted together, first tighten all its bolts. Then try these two improvements.
Improve the connection between the benchtop and its base. Usually the benchtop is held in place with gravity and maybe a couple of lag screws.
This is not enough. Bolt the top to the base using carriage bolts (two bolts at each end), washers, and nuts. Countersink the heads of the bolts into the benchtop well below the working surface. To stop the base from swaying, glue and screw a wide piece of 3⁄4-in. plywood to the rear of the base. If that doesn't do the trick, add a similar piece to the front of the base.
Immobilize the base
Even the beefiest workbench can slide across the floor during heavy handplaning. Lock the bench in place on the floor with cleats. Screw or nail them to the floor on the inside or outside of the legs.
If cleats alone don't do the trick, drive lag screws up through the floorboards into the legs to immobilize a jumpy workbench. If your workbench has sled feet you can drive the lag screws from above.
From Fine Woodworking #283
To view the entire article, please click the View PDF button below.
---
View PDF