Recommended resources: Fundamentals of Handplanes
Check out our collection of articles specifically picked to help with this series.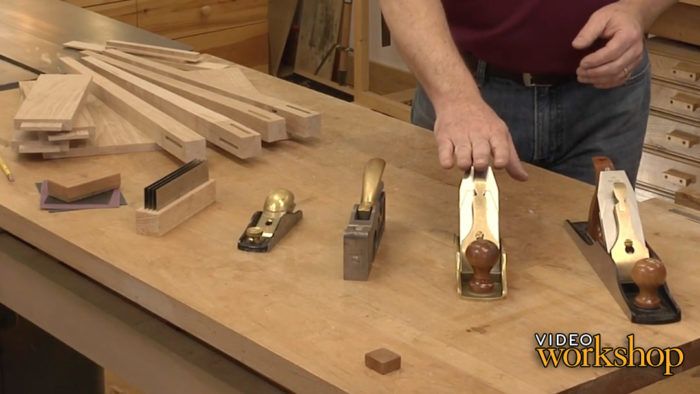 Using only hand tools, Chris Gochnour builds a Shaker classic that is as solidly constructed as it is beautiful.
---
Some folks prefer to sharpen their plane blades and chisels freehand, but Chris Gochnour is a proponent of using a honing guide. These guides hold blades at a consistent angle while you sharpen and are essential to getting keen, repeatable results. He tested a variety of guides with different blades, focusing on ease of setup, accuracy of setup, versatility, and consistency. This review focuses on guides that sharpen on the stone. Models reviewed include the Lie-Nielsen, Veritas Mk.II Deluxe Honing Guide Set, generic side-clamping guides, the Kell No. 2, Nano Hone's Sharp Skate 4, Trend, and the Veritas Sharpening System.
---
When planning a new hand-tool cabinet for his workshop, Mike Pekovich wanted to pack in more storage than his old cabinet without taking up more wall space. He accomplished this by making the new cabinet deeper and building the doors as shallow boxes instead of flat panels. He advises anyone building a tool cabinet to start with the tools, then design the cabinet around them. This one has a solid wood case with dovetails at the corners, and frame-and-panel doors mounted with mortised butt hinges. A custom-fitted plane till provides a home for each of Pekovich's coveted handplanes, and there's a space for all the other hand tools he uses regularly.
---
A common misconception among many new woodworkers is that you need an expensive plane to experience the joy of handplaning—the whisper-thin shavings, the tool gliding across the board, the glass-smooth, dead-flat result. Not true. You can get great results from a garage-sale find or an eBay purchase as long as you know what to do. Roland Johnson has rejuvenated dozens of Stanley Bailey planes and given more than 100 seminars on the subject. Here, he demonstrates how to tear down a plane to its bare chassis and rebuild it into a classic.
---
A Joiner's Tool Kit by Peter Follansbee
The first, most vital step in Peter Follansbee's all-hand-tools approach to furniture making is to start with straight, riven stock. If you do that, you need just a modest-sized set of tools to do the rest of the work, such as a hatchet, a variety of handplanes, a handsaw, measuring and marking gauges, chisels, various carving tools, and more. Follansbee gives a glimpse into his tool kit to show us what's there and why it's important.