Recommended resources: Building Custom Picture Frames
Check out our collection of articles specifically picked to help with this project.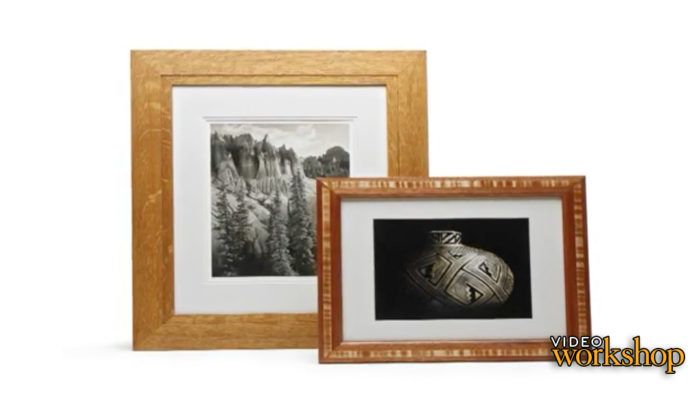 Used on doors, face frames, and picture frames, frame miters are not as easy to execute as they look. The parts must be cut precisely at 45° and at the exact length. Then they must be glued and clamped properly. By using his dedicated miter sled and cutting the parts to length before they are mitered, Craig Thibodeau has mastered the frame miter. Here, he shows you how to make his sled and how to use it. Then he shares techniques for clamping that will make assembly easier.
---
As a woodworker, you might think that once you've built a well-crafted frame for a piece of art, you're finished. But even with the frame in hand, there are important steps to take and nuggets of information to know to be sure the art looks great and stays protected for the long term.
---
Developing a method for cutting flawless miters without a fuss is a key milestone for a furniture maker, and a steady source of pride and pleasure once it's mastered.
---
This freestanding frame allows the display of two pieces of art simultaneously on a tabletop, desk, or other flat space. It is designed to be easily disassembled to change artwork. The sleek design and basic joinery in this frame make it a great one-day project. It has a wide base, a narrower top, and through-tenons on the uprights. Grooves, bevels, and mortises are the basic construction method. Tenons, wedges, and pegs keep the frame together. Once you've made one of these frames, you'll want a whole set in different sizes. Luckily, that will be easy to accomplish.
---
This frame has all the hallmarks of the Greene-and-Greene style that inspired it: rounded edges, stepped sides, square pegs, and cloud-lift patterns. But it also has some modern touches, such as the carving around the edges of the cloud lifts, and the choice of cherry as the wood instead of mahogany. The frame is held together with sturdy mortise-and-tenon joinery, while the framed materials sit inside a rabbet. By leaving the pieces square while cutting the joints, construction is simplified. The curves, carving, and pegs come later. In addition to step-by-step instructions on making this frame, this article also has an ingenious method for making pillowed pegs that can be used on any project.