Designer's Notebook: The art of turning
Max Brosi uses texture, contrast, and the distortion of the wood to bring his ideas forward. Once he knows what the piece is going to say, making it is an enjoyable and often automatic process.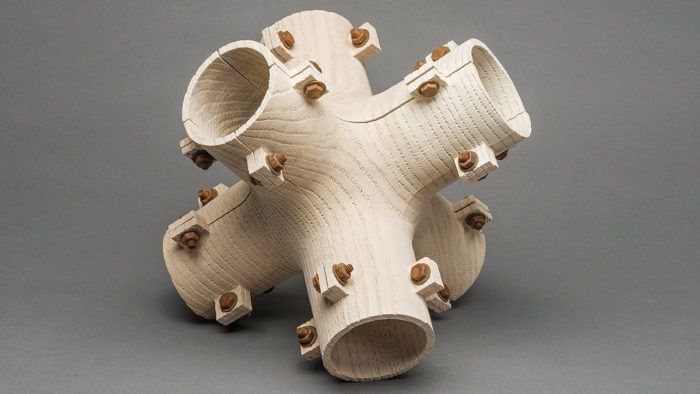 In many ways, the creative process in wood turning echoes that of architecture quite closely. Before I make, I design. The relationship between designing and making is a symbiotic one; each needs the other for itself to fully exist. Despite greatly enjoying the entire process, my personal disposition leans more toward the design stage, where I add the real essence to my work. Once I've acquired a certain level of skill and proficiency, making the piece often becomes an enjoyable, automatic, and repeatable process that communicates the design.
Conceptual and narrative
In my more sculptural work, I use features such as contrast, distortion, and texture to communicate an idea, an experience, or a sociopolitical statement. The contrast can be subtle and almost imperceptible, such as combining geometric shapes with the use of wet wood that distorts as it dries. This is done to breathe life and dynamism into what could otherwise be quite a static form. Due to the narrative nature of a lot of my work, I will design and plan a piece in my head and in my sketchbook before ever approaching the lathe.
---
Read more about Brosi in this article, "Max Brosi: The Static Becomes Dynamic,"
by Roger Bennett, is from the pages of American Woodturner and is brought to you
by the American Association of Woodturners (AAW) in partnership with Fine Woodworking.
---
Balance and simplicity
With these pieces I strive for calm and clean lines that define the piece's volume. That's not to say they aren't designed before they're made, just that the design process here is more based on intuition and how the piece physically and emotionally feels when held in the hand. Many wood turners make hollow vessels; in my case the desire to do this came from sitting on a stormy beach, cupping a large beach pebble in my hands. The color of the stone was quite subdued, giving me the opportunity to concentrate more on its form and texture. This experience and a thought I had later led me to consider how a visually impaired audience might experience my work, and that in turn has influenced how I approach making my hollow vessels; how they are shaped, how they are weighted, how they are textured.
Pebble vessels. These pieces were turned from green sycamore before being charred, sandblasted, stained, and limed. The form and surface texture capture the feeling of eroded beach pebbles from the coast of northwest Ireland where Brosi lives.
Sight through touch. This small vessel in oak is part of a series Brosi made investigating how visually impaired people could experience turned work. The vessels in this series were deliberately kept small so that they could be cupped in two hands to experience the form and contrast in texture between the rim and body of the vessel.
The ripple effect. This vessel was turned and carved from green sycamore before being charred and waxed. Inspiration came from the pattern of waves on a calm day on Donegal Bay.
---
Max Brosi is a sculptural wood turner based in northwest Ireland. Photos by Steve Rogers, except where noted.
| | |
| --- | --- |
| | Celebrating trees as natural timelines and storytellers is a thread in Jeremy Zietz's work and is exemplified in this 300-Year Mantel |
| | |
| | |