Tool Review: Spike Plate by Amy Grigg Designs
Mike Mahoney calls this new spike plate "the ultimate version of a center faceplate."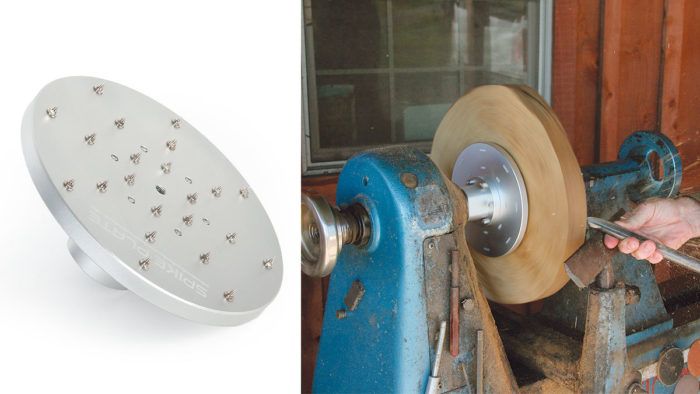 Amy Grigg Designs' new spike plate is the ultimate version of a drive center faceplate. I have seen many versions of this tool over the years, but none like this. It has all the qualities needed in such a tool.
First, the overall diameter, 71⁄2 in., provides more surface area so your turning blank won't slip while cutting. The spikes that protrude are adjustable, so you can seat them on an uneven surface of the blank if necessary. There is a 3⁄8-in.-dia. registration pin that makes sure the work is centered, and it is removable if you are working thin stock, such as plates and trays. While I could find a hundred uses for this tool in my shop, I particularly liked it on my platter blanks and bowl stock.
The finish is anodized aluminum to protect it from rust and grime. The Spike Plate comes in three standard spindle sizes, 1.25 in., 33mm, and 1 in.
—Mike Mahoney is a professional turner outside Sacramento, Calif.
From Fine Woodworking #282