The importance of working clean
Bob Miller shares lessons from a 108-sq.-ft. bench space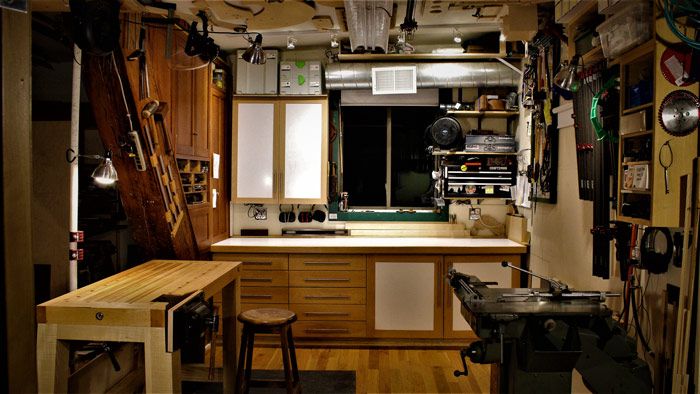 My personal bench space is a mere 108 sq. ft. with access to a larger shared machine room. Given that I have such limited space to call my own, I have to work clean. And given the frantic flurry of cleaning going on in the world right now, this is a great time to talk about working clean in the shop.
Working clean centers around thinking through your processes and working habits and then adapting your space and daily habits to match. The goal is that a tool can be close at hand while working on a project but still out of the way when it is not needed. This also includes taking the time to clean the shop in between steps in the process to keep ahead of the mess, because making a mess is inevitable in our line of work.
If you take the time to work clean at every step of the process, you'll actually work faster in the long run. And you'll be able to work on larger projects out of a smaller space. With my 108 sq. ft. of bench space, every inch counts and everything must have a place. The idea that adding the steps of cleaning and organization would actually speed you up may seem counterintuitive, but hear me out.
When you work clean, you don't have to stop to find a tool that was left out on the bench, then covered up and hidden in the next step. You don't have to worry about losing a critical small part in the clutter that gathers as the process builds. By following these simple steps it is possible to maximize any work space from the smallest of areas to the largest of shops.
To start your journey into working clean, the first step is simply to clean, apart from any particular project or process. Simply put everything where it is supposed to be, and from there assess what is where, and whether everything has a place. A great way to remind yourself that space in the shop is precious is to do some quick math. First you need to know the total space of your shop; next you need a rough number for how much your shop costs per month. For those of us who rent space, this is an easier number; for those who have basement or garage shops it can be a bit more nebulous, but take a whack at it anyway. With these two figures you can find out how much in terms of dollars per space it costs for everything in your shop simply to exist. For example, my trash can costs me $7.75 a month in floor space. Armed with the knowledge, I can make informed decisions as to the value of any object I wish to keep in the space—and I have decided that having a trash can next to my bench is worth it.
This newfound knowledge of value for space can also illuminate the enemy that is scrap. Scrap is a real and insidious enemy; it lurks in the shadows and builds a small army in the darkness at the edge of the shop. DON'T LET IT! Get in there and make the tough call to let it go. Now that you know exactly how much your space costs sitting empty, it is possible to calculate how long it will be before the cost of the lost space is greater than the cost of those scraps of wood.
The next step in working clean is often the hardest, yet seems the simplest. Put away each and every tool at the end of a process. If you do this, you will know for certain where everything is and you will not waste time looking for something that has gone rogue. This will also keep your precious working space open for the task at hand, and it will pay off because you won't leave tools in your own way. This practice has the side benefit of protecting your tools—particularly edge tools—from accidental damage when they get pushed off the edge of the bench or crashed into another tool. (I once lost a handplane this way. It was pushed to the corner of my bench and, while working on something totally unrelated, I pushed a scrap across the bench and a chain reaction of clutter pushed the plane right onto the floor, damaging it beyond repair!)
Finally the last benefit of working clean is not necessarily technical but more philosophical. Cleaning the shop is akin to raking a zen garden: Shut out the troubles of the world and focus on the shop. I often find the best clarity of ideas and process come to me not when I am stressed over how something is supposed to look but rather during the simple act of cleaning.
I hope that you will give working clean a try and hopefully you will see some of the benefits and joys that I have seen.
---
| | |
| --- | --- |
| | |
| | |