Chris Gochnour's shop really is this tidy
There is perhaps no more orderly and clean shop than Chris Gochnour's marvelous, sun-soaked shop in the Salt Lake City area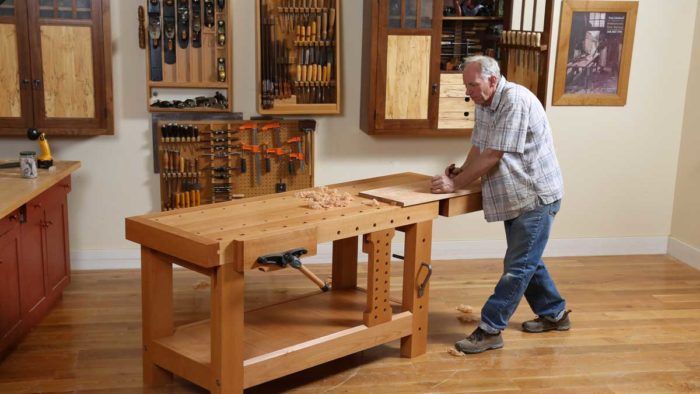 I've worked at Fine Woodworking for almost 10 years. In that time, I have traveled to a great many shops, most of them belonging to professional furniture makers. I've seen them first hand, and watched as they got used. Here's something that I've noticed: The vast majority of professional furniture makers that I've worked with keep a tidy shop. You might think it odd that I should go out of my way to make this point, but you wouldn't if you knew how many emails I've read, or how many times I've been told in person, that the shops we show are artificially clean, and that any furniture maker worth his or her salt is too busy to sweep the floor and put tools back in the rack or cabinet. I know there are great furniture makers with messy shops. I learned in one like that. However, most of the ones I've seen aren't like that at all. An orderly shop is easier to use. It's more efficient, and less time is wasted looking for a tool, or clearing a mess from a workbench or machine table so that you can get work done.
There is perhaps no more orderly and clean shop than Chris Gochnour's marvelous, sun-soaked shop in the Salt Lake City area. Here are some pictures that I've taken during my last few trips there. And yes, it really is this beautiful, this well-organized, and this clean.
First up is the spacious area where Chris keeps his primary bench, which is going to be featured in the 2018 Tools and Shops issue. Hand tools are stored within reach, and neatly organized by type. As the Shakers were found of saying: A place for everything and everything in its place.
Next up is a detail of the saw and chisel till. Chris might have a problem with chisels. And saws. Well, really with just about every type of hand tool.
To the left of the saw and chisel rack is a similar one for hand planes. That empty slot? it's for a No. 4 smoother, which Chris doesn't use very often, so he doesn't keep it in the rack. The planes lean back slightly and hang on boot laces. In case you are wondering, the burled knocker hanging on the left side is a mallet. It's definitely not a muddler for making mint juleps. Remember, kids, alcohol and woodworking don't mix.
Beneath the plane and saw tills is an open rack for clamps, spokeshaves, some card scrapers, a few files, screw drivers. Note that a large swath of space is dedicated for chisel overflow. And I promise you, there are still more chisels tucked away inside his two wall-hung tool cabinets.
On the other side of the shop is this lovely clamp rack. This type of order is quite pleasing, if I'm being honest. Notice how the parallel jaw clamps on the right are being hung? If you rest them on the lower jaw or, even worse, on the locking mechanism, they have a tendency to "lock" and can be a pain in the clamp to open. This method for storing is way better.
Chris is also a big fan of vintage machines. I love this old Delta drill press.
He had a beautiful old Oliver 166 16 in. jointer that he restored, but it's been replaced by an awesome and brand new 16 in. jointer.
More on FineWoodworking.com: