Wall-Mounted Hand-Tool Storage
Custom hanging panels keep hand tools secure and at the ready.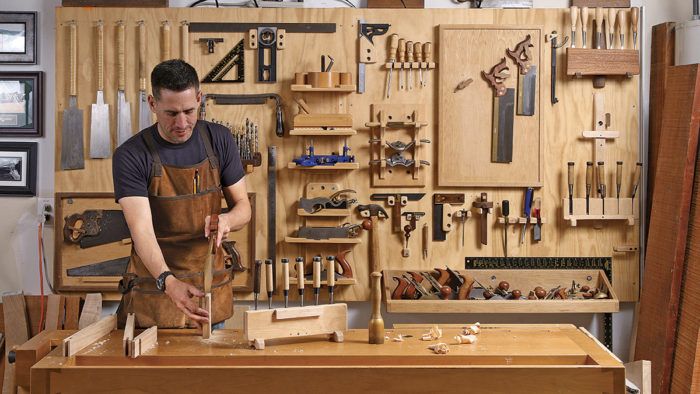 Synopsis: Jason Stephens learned woodworking in the U.S. Army, and it was in the Army that he also learned the importance of having a secure but movable tool storage system. His hanging-panel-based tool storage solution incorporates custom hangers for each tool with easy, one-handed access. Used for both hand tools and machine accessories, his movable panels keep his tools organized and within reach no matter where he's working. And if he has to move his shop? The panels can move right along with him.
---
I joined the Army in 1994 as a drummer in the band program. One day on the Army base in Wiesbaden, Germany, I noticed my friend Dave coming up the stairs carrying a newly made wall cabinet with beautiful exposed joinery. He told me he'd made it at the woodshop right across the parking lot from our barracks. I was floored. For the next eight years, I spent practically every waking moment in that shop, which I realized later was a world-class facility. I began accumulating hand tools during those years, and it didn't take long before the shop workbench began doubling as my storage shelf, with tools eating up all of its usable real estate.
My mobile tool-storage solution
When I returned to the United States and finally had the opportunity to set up my own shop, I consulted Jim Tolpin's The Toolbox Book (The Taunton Press, 1998). I loved his idea of French-fitted trays, which protect tools and show at a glance where they belong. As for the many cabinets featured in the book, they were magnificent, but I don't like opening doors or drawers to retrieve bench tools. I want to be able to grab them right away with one hand.
My hanging-panel-based tool storage solution marries custom holders for each tool with easy one-handed access. I use it for both hand tools and machine accessories, placing panels full of tools within arm's reach of my working position.
I mounted my tool holders on 2-ft. by 4-ft. pieces of 1⁄2-in. plywood (as opposed to directly on the wall) for a few reasons. First, the plywood saves your wall from becoming Swiss cheese when you rearrange the layout, add tools, and delete others from daily use. Also, plywood lets you attach and relocate holders with simple screws, as opposed to the fussier fasteners required for drywall or concrete. And if you need to relocate a group of tools—or the whole shop—you can take the panels and holders off the wall in one piece, and mount them easily in your next location.
More on FineWoodworking.com:
From Fine Woodworking #272
To view the entire article, please click the View PDF button below.
View PDF