Get Those Kids in the Shop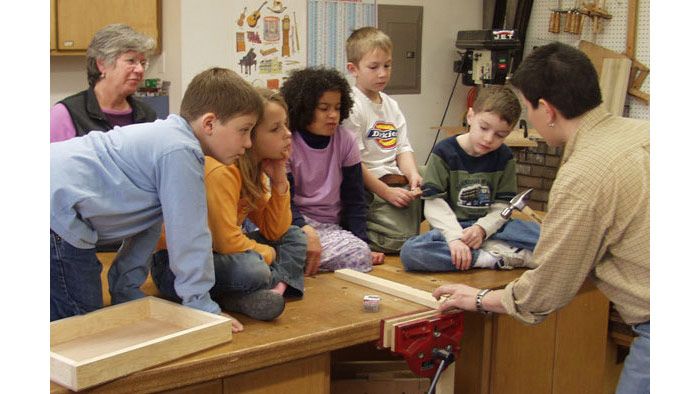 Get those kids in the shop! We are all in this thing together, which means a lot of us are isolated at home with kids 24/7, for the foreseeable future. It's challenging at times. But tap into what you have at your disposal and get in the shop with them. It'll either drive you nuts or you'll have a great time. 🙂 Keep it simple, keep it safe, make it something your kid is in to. Later today I'm getting my kids out there. We are just going to make some cutting boards. They can draw the shapes on the boards they choose, I'll help them bandsaw them, and then they can sand and add a finish. Then we'll bring them in the house and start using them.
Here are some links to Fine Woodworking articles that can give you ideas and pointers for working in the shop with kids. Have fun. Enjoy your children! Take care! -Anissa Kapsales
---
by Doug Stowe
The Clear Spring students made this project as a pencil box, but don't let that limit you. Encourage the kids to think about alternatives: To make it shorter, longer, wider, or taller. Or, adding one or more dividers inside. Or using different combinations of woods.The projects in this series were first made by the students at the Clear Spring School, a small independent school in Northwest Arkansas. When my daughter Lucy was a student there, I developed a woodworking program called Wisdom of the Hands. It recognizes the importance of integrating the head and hands in the development of intelligence for all students. My daughter is now in college, but woodworking remains a favorite activity throughout the school. The direct, hands-on problem-solving that goes on in the woodshop helps the kids in all their other classes.
---
by Todd A. Clippinger – American Craftsman
When it comes to sharing woodworking with my grandkids, I keep it simple. In fact, I really don't care if they take a shine to woodworking, I would just rather they get the opportunity to be creative.
When they come over for a visit, they don't ask if they can do woodworking, they just ask, "Can we build?"
---
My 4-year-old has hit the stage where the kitchen stepladder was too high for him and this single step stool would get him to the perfect height. Then the thought hit me: Why not make the step stool with my son? The stool has a through-mortise on one leg and dovetailed construction on the other. If I was going to ask a 4-year-old to take on the task, I thought I'd better stack the odds in his favor and simplify it. We wound up building four with some of the kids of Fine Woodworking, ages 4-9. It was an absolute blast, and we made a video of the event that might help your kids get excited about what's ahead.
---
My daughter Lucy began regular visits to my wood shop when she was three. If you have children of your own, you understand the very important feelings that arise when you introduce your child to something that you love so much. I have enough love of woodworking to feel a need and a responsibility. I feel it's important to share what we love and what we know with new generations to provide a foundation for the growth and development of new generations.
---
---
Cutting boards are a great destination for short or narrow offcuts of attractive wood. They're an easy project, but depending on choice of wood can take on an elegance that belies their straightforward design, construction, and finishing. And if you use a template, like woodworker Tim Albers does, you can churn out stacks of gifts. Albers gives instruction on creating a safe surface for food preparation that will stand up to sharp blades and lots of moisture, while at the same time is beautiful and suited to its purpose.
---