Choosing and Using Spokeshaves
For shaping and smoothing curved parts, nothing beats this time-honored tool.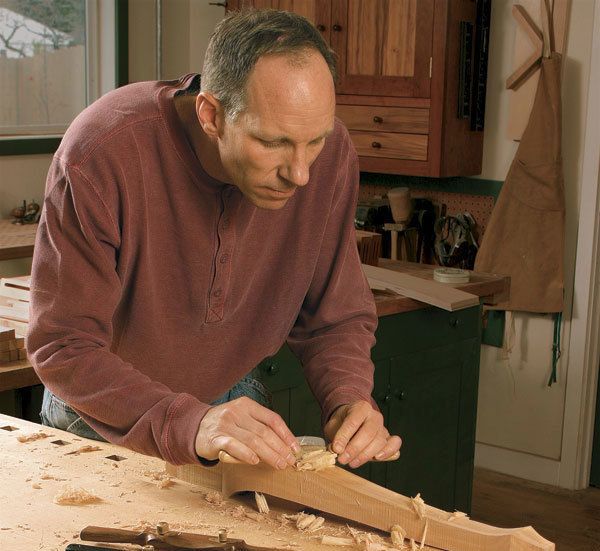 Synopsis: Simple tools consisting of a wooden or metal body, blade, and narrow sole, spokeshaves are unmatched when it comes to smoothing curved furniture parts. They are used for such diverse tasks as forming chair spindles and legs, shaping curved handrails, forming axe handles, and even shaping (as their name implies), wooden spokes. They are also useful at smoothing parts that have been roughly sawn to shape such as chair rockers or back slats, cabriole legs, arched aprons, or bowed door rails. In this review, Chris Gochnour tests 11 low-angle and standard-angle spokeshaves, evaluating each for performance, design, blade adjustment, ease of sharpening, and all-around quality.
Models tested include: Low-angle shaves: Dave's Shaves No. 1 Tradition; Harris tools; Kansas City Windsor Standard; Veritas Low-Angle; Woodjoy Master. Standard-angle: Anant A151; HNT Gordon; Kunz 51A; Lie-Nielsen Boggs; Stanley No. 151; Veritas Flat.
I recently completed a writing desk that had curves and contours nearly everywhere—in the legs, the aprons, the drawer fronts, and even the top. All of those curves meant that my trusted handplane had to stay on the shelf for extended periods. The handplane, after all, is designed to make things straight and flat—hardly what you want when working with curves. For this project, I reached instead for the handplane's versatile cousin, the spokeshave.
Spokeshaves are simple tools, consisting of a wooden and/or metal body with handles, a blade, and a narrow sole. The tool often is associated with chair makers who use it with a drawknife for shaping spindles, legs, and rungs. But with a spokeshave, you can perfect and smooth any number of curved furniture parts, from complex cabriole legs to simple arched table aprons.
There are many diverse styles and models of spokeshaves. For this review, I looked at 11 shaves with flat soles and straight blades. This style shave is a good, all-around performer, capable of handling most shaving tasks well. within this group, the shaves are classified as low angle or standard angle, depending on how the blade is bedded. Both low- and standard-angle shaves have their places. The secret lies in knowing which type of shave is best suited to the work that you do.
Low-angle vs. standard-angle shaves
Although some woodworkers classify spokeshaves based on the material from which they are made (wood vs. metal), the real difference among these tools is how the blade is oriented in the body (bevel up or bevel down) and thus the cutting angle created by that orientation.
Spokeshaves that have blades bedded bevel up have low cutting angles, from 20° to 35° depending on the bevel angle. The lower cutting angle makes it easy to take heavy cuts. Spokeshaves with blades bedded bevel down, which I call standard-angle shaves, have a steeper cutting angle of around 45°. The steep cutting angle deftly handles tricky grain.
From Fine Woodworking #185
For the full article, download the PDF below:
View PDF