Gem of a Drawer Pull
Mike Korsak uses a series of jigs to produce faceted drawer pulls that are made almost exclusively with machines.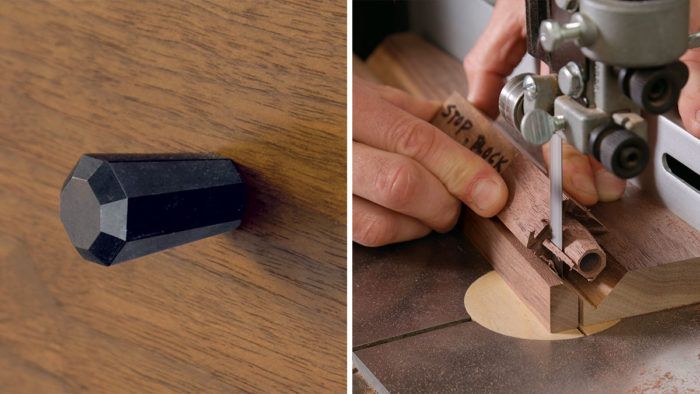 Synopsis: Reminiscent of gemstones, these faceted drawer pulls are made almost exclusively with machines—tablesaw, bandsaw, drill press. Mike Korsak uses a series of jigs to produce pulls of a consistent shape and size.
---
I designed these faceted drawer pulls, which were inspired by gemstones, for a silver chest I made several years ago (Designer's Notebook: Mike Korsak's En Pointe). More recently, for a dresser with 10 drawers, I made a slightly modified version of the same pull. I used machines almost exclusively to make them and developed a jig-based process that allows me to produce any number of pulls that are consistent in shape and size. The jigs ensure that I can work safely and efficiently despite the pulls' small size and complex shape. The chest of drawers required 16 pulls, but I made perhaps 30, so I would have some to use for testing the jigs and machine setups and others for future use.
Jigs for a gemstone
I made two jigs to use on the bandsaw and two additional jigs (sleds, really) to use on the tablesaw. I cut the short facets at the end of the pull on the tablesaw and the long facets on the bandsaw. One of the jigs for each machine required a V-groove to cradle the square pull blank when it is rotated 45°. The finished pulls are tapered octagons, so the ability to mill stock accurately while it's rotated 45° was essential, and the V-grooves allowed for that.
---
---
If you plan to make pulls using the jigs I show here but you want your pulls to be a slightly different shape or size, you may find the biggest challenge is having to run a blank through the entire process before you see what the finished pull looks like. If the shape isn't quite right, the jigs and setups have to be modified and the sawing steps repeated. I ended up making three prototypes before I was happy with my pull, and that took a fair amount of time. but the upside was that once things were dialed in, it was fast and efficient to make a large number of consistently shaped pulls.
From Fine Woodworking #280
To view the entire article, please click the View PDF button below.
---
| | |
| --- | --- |
| | |
| | |
| | |
View PDF