2 Classic Pulls
Soup up store-bought or start from scratch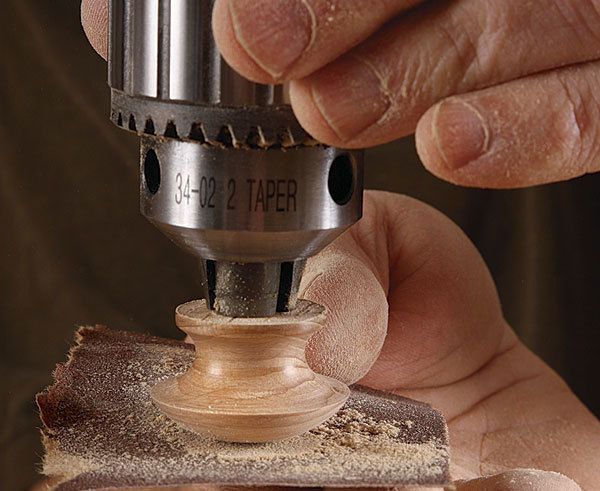 Synopsis: Whether you are seeking a set of elegant turned pulls to complete a Shaker chest of drawers or you need square, faceted pulls to embellish and Arts and Crafts piece, these classic furniture details are within your reach. And you don't need a lathe or special tools to make them. Here, you'll learn an easy way to turn a mass-produced, store-bought drawer pull into a period-perfect Shaker pull in just minutes. Then, you'll see how a simple jig used on the drill press and tablesaw can help you turn out pyramid pulls that would make any furniture maker proud.
From Fine Woodworking #222
I've made a lot of traditional furniture and I've learned the importance of getting the drawer and door pulls just right. Fortunately, you don't need to own a lathe to make the elegant turned pulls that are the hallmark of Shaker furniture, and you don't need to commission hand-hammered hardware every time you tackle an Arts and Crafts project. Instead, there's a really easy way to customize store-bought pulls, and I'll share a simple jig that will help you make your own classic pyramid pulls quickly and safely.
Shaker pulls – Made by machine, perfected by hand: You can get turned pulls in a variety of woods from most woodworking retailers. They are a convenient option, but the machine-duplicated profiles leave a lot to be desired. Typically, they lack the crisp detail and graceful curves of a hand-turned pull. They also tend to have heavy scratch marks and a nib at the center of the cap. Finally, the limited size selection often forces you to choose between a knob that's slightly too large and one that's too small.
The good news is that it doesn't take special tools or a lot of time to remedy any of these shortcomings. All you need is a drill press (even a handheld drill will do) and five minutes of sanding to change the profile or the diameter and to transform a generic pull into one suited for fine furniture.
Pyramid Pulls – Are Best Made From Scratch: You can buy square pulls, but the profiles are usually rounded over, lacking the crisp facets that catch the light. Also, the wood selection offers few choices of species or grain orientation. You can do better on your own. The trick, when working with any small part on power tools, is to do it safely. A simple jig solves the problem. Not only is it easy to make, it's also a true multi-tasker. Use it on the drill press to drill the screw hole and shape the waist. Then move it to the tablesaw to bevel the top.
For the full article, download the PDF below:
View PDF