Drawer and Door Pulls: Our Editors' Favorites
Throughout the years, there have been quite a few lovely pulls featured in the pages of Fine Woodworking. In this collection, our editors pull out a few of their favorites.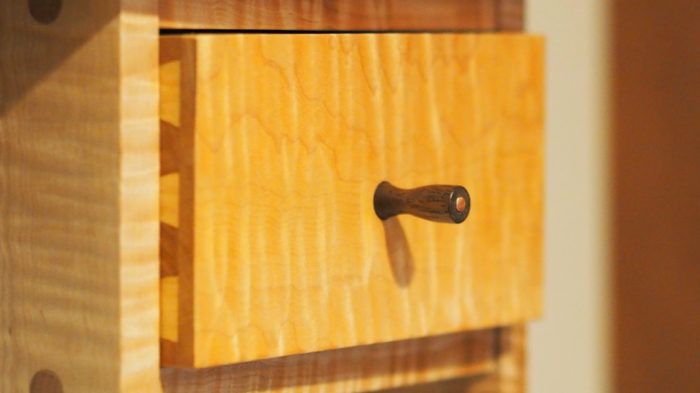 When we first saw Mike Korsak's beautiful pulls (Fine Woodworking #280), it immediately got us thinking about all of the great pulls that have been featured in the magazine over the years. So we decided to pull together some of our favorites. Some of these pulls were part of a larger project, and some were complicated enough to merit an entire article about them. From simple to complex, there is room for all kinds around here.
---
I don't own a lathe, so when Ben asked us editors to write about our favorite articles on door and drawer pulls, I went down a practical path for someone in my situation: "Turn Pulls without a Lathe," by Chris Becksvoort (FWW #240). Recently I was working on a small wall shelf key holder, and I wanted a turned pull for the drawer. It was just one pull (certainly not worth buying a lathe for!), so I adapted Chris's techniques on my benchtop drill press to craft a simple profile using files, rasps, and sandpaper. Chris did a lot of his shaping work freehand, but with this tiny walnut pull (pictured above) I wanted a bit of tool support, so I made a wood rest to keep the files steady as I worked. It took a few tries to get the shape I wanted, but I'm happy with the result, thanks to Chris.
-Tom McKenna
---
I love Libby Schrum's recessed "pulls" on her mid-century liquor cabinet in FWW #261. They are unobtrusive, yet very thoughtful and work perfectly with the sleek, modern design. And Schrum has a great jig for cutting them. It's also pretty cool that Schrum was able to design a pull that works well on sliding doors but functions just as well as a drawer pull, keeping the design clean and uncluttered.
-Anissa Kapsales
---
It's not always about making pulls:
For period work, the hardware can make or break the project. When I'm making Stickley-inspired designs, hand-hammered hardware is a must and the pulls by Gerald Rucks are spot on. They're really well-crafted and give the project an authentic feel.
-Mike Pekovich
Back cover Fine Woodworking #149 Handmade Arts and Crafts pulls by Gerald Rucks
---
I'm drawn to simple furniture, with simple accents–that could simply be stated, Shaker designs. However, it's certainly nice to have a "wow" factor added in. Chris Becksvoort's Shaker Spinner pulls in Fine Woodworking #155 do just that. This simple Shaker shape adds a huge amount of functionality and a perfect dose of "wow."
-Ben Strano
---
I've always loved Tim Coleman's accents, and his carved pulls are no different. Zero profile but plenty of character. What's not to love?
-Barry Dima