From The Bench: In Memory of a Friend
Former editor Andy Engel writes a tribute to his friend, former Fine Woodworking editor Bill Duckworth.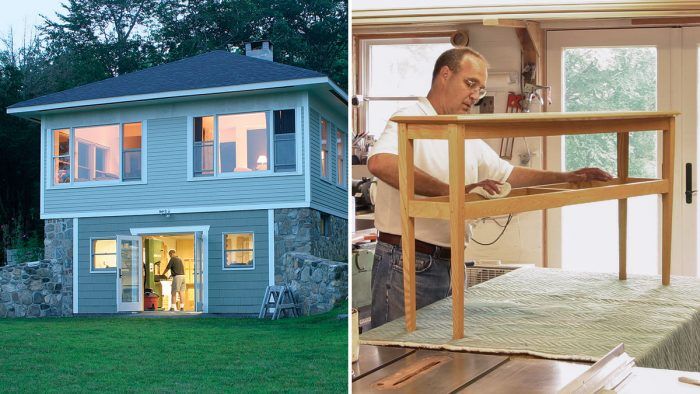 In 1996 Kevin Ireton interviewed me for a job as an assistant editor at Fine Homebuilding. The day of the interview sticks in my memory. I felt like an acolyte getting a glimpse of the inner sanctum. I didn't expect to be hired, figuring I was more than likely to comport myself like the kid at The School for the Gifted in the Far Side cartoon who was pushing mightily on a door that was clearly marked, "Pull."
But The Taunton Press surprised me. Where I had expected the offices to reside within a wood-paneled library replete with Nakashima and Krenov furniture, I found an ordinary building with cubicles and a front door jammed open with a garbage can because the security system had gone wonky. The editors, whom I had imagined clad in tweed and wandering the halls to the sound of Bach concertos, were wearing jeans and scuffed boots while Chuck Miller riffed Grateful Dead tunes on his guitar. I was the only person in tweed.
Once hired, I found my colleagues to be smart, talented, kind, and friendly. Most importantly, there was nothing academic about their interest in making things. They shared a sense of craft and of how craft should intertwine with life. That sense permeates Taunton's staff, authors, and readers, and those people make the company. I came to view Taunton itself as merely the cave wall upon which those ideas of craft were reflected.
Which brings me to Bill Duckworth. An editor at Fine Woodworking, he and I met when he checked me out on the machines in the magazine's shop to be sure I was competent to use them. In time, we bonded over interests outside of work —Boy Scouts, cooking, our families (and the importance of the proper use of commas). We went to dinner parties at each other's houses. We helped each other build those houses. Bill was one of the most skilled woodworkers and designers I've known. He brooked no bull, and yet he was a humble and gracious man who bore an abiding respect for the authors whose work he elevated in the magazine.
After we both left Taunton, we stayed in touch through a semi-regular breakfast club of old editors on a mission to find the best diner in western Connecticut. Less regularly, we had dinner together, but still regularly enough that it was no surprise to be invited to his house one evening last winter.
My wife Pat and I joined former editors Kevin Ireton, Strother Purdy, and Vinnie Laurence at Bill's table. He'd made the table of course. And I think the chairs. And he'd built the kitchen. A woodstove, fueled with logs he'd cut and split, warmed us. The meal was chili, which Bill had made with a mélange of meat that included bear and venison. It was the best chili I've ever eaten. There was corn bread, and beer, and bourbon, and Bill told the story of another dinner, hosted by a close friend of his. His friend didn't eat, but rather served a few special friends a traditional Japanese meal. A few months later, Bill found out that his friend had died from cancer.
Bill said he thought the friend, knowing he was sick, had served that meal as way to say goodbye to people who had an important place in his life, without burdening them with the knowledge of his illness.
I didn't see Bill after that dinner, and I didn't think of that story again until recently.
A few weeks ago, I learned that Bill had died of cancer. I hadn't even known he was sick. A week later, while working on an 18th-century house, fitting jack-mitered casing to the frame of a door I'd made from 200-year-old boards, it hit me that Bill had done the same thing as his friend.
Or maybe he hadn't. Maybe he hadn't known then that he was dying. But at that, he had the wisdom to leave the moment alone, and it will stand with me forever as memento of him and how he would have wanted to leave his friends.
From Fine Woodworking #278