3 Methods For Removing Rust
Rollie Johnson demonstrates how to remove rust from your tools and keep it at bay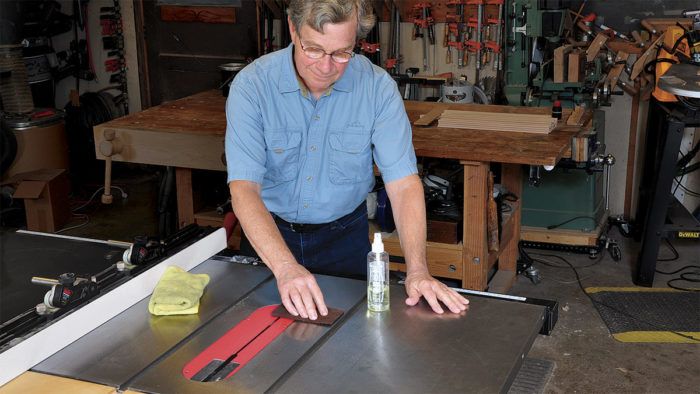 Synopsis: Even if you live in a dry climate, rust on tools and machinery can be a problem. And if you live in a place where the seasons bring rain, snow, or humidity, it's worse. Although there is no bulletproof solution, Roland Johnson relies on three products to keep the red scourge at bay. Follow his steps for cleaning, rust-removal, and prevention, and you're on your way to rust-free tools.
Rust, another name for iron oxide, occurs when iron, or a metal alloyed with iron, is exposed to water. The problem is pervasive in wet climates, but even dry climates devoid of big temperature and humidity variations can still see problems with rust. It's inevitable. What's more, short of plating or painting the iron, there's no bulletproof or permanent solution. So what can we do to get rid of the red scourge? I have a trio of products that I rely on. For these to be effective, you'll need to follow a few simple steps before, during, and after you use them. And once the rust is gone, I have some suggestions for prevention.
First remove the grime
For any rust remover to be effective, it has to reach below the existing surface rust and neutralize or eliminate freshly forming rust. If the tool is dirty, start by cleaning the surface with a solvent such as naphtha. Wearing gloves, apply the solvent and scrub any contamination and loose rust off the iron. I use a maroon Scotch-Brite abrasive pad where possible and a wire brush or stiff nylon brush for hard-to-reach places. Small parts I simply drop into a container of solvent for a couple minutes and then scrub clean with a small wire brush.
Attack the rust
With the grime gone, the rust is exposed and ready to be removed. While there are plenty of products and methods available, I have three favorites— camellia oil; Evapo-Rust, a proprietary rust remover; and phosphoric acid, found in cola—that I choose from depending on the task. I'll discuss some other products and methods, too, and explain why they fall short in my book.
From Fine Woodworking #272
For the full article, download the PDF below:
More on FineWoodworking.com:
View PDF