The Best Rust Preventers
New protectants thrashed old favorites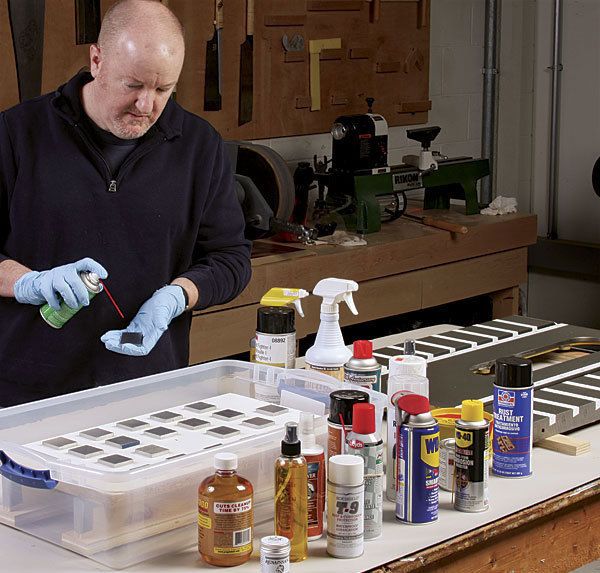 Synopsis: We put 20 commonly available rust preventers to the test to see which ones work best at protecting your expensive woodworking tools from rust. Are waxes and natural oils better? What about petroleum-based products? We tried the rust preventers on a cast-iron tablesaw top and some samples of A2 tool steel (an iron alloy). All of the samples were subjected to extreme environments. Our test results showed which protectors really work.
If you live in a humid area of the country, you are more than likely familiar with the menacing presence of rust, especially if you work in an unheated basement or garage shop. left untreated, rust will eat away iron and steel relentlessly, like a hoard of hungry termites on dead wood, causing extensive damage. to help protect your expensive woodworking tools, you need to take steps to prevent rust. One way is to coat iron and steel surfaces with a rust inhibitor. But which one?
Look on any woodworking forum or website, and you'll see a lot of "expert" recommendations about which products to use. to end the debate, Fine Woodworking put 20 of these commonly available preventers—from waxes to natural oils to petroleum-based products—through a torture test to see which ones really do work best.
The test results aren't the only answer to stopping rust. In the end we'll give you some sound strategies for fighting rust in your shop. Before you can go to battle, however, it's important to understand how rust forms.
Water is the instigator
Put simply, rust (iron oxide) is a form of corrosion that occurs when both iron and oxygen are exposed to moisture, whether in the air or on the surface. that moisture is the medium through which the players that chemically cause corrosion travel. Rust formation can be accelerated with the addition of a stronger oxide or acid— the salt in sea air, for instance, or the moisture from your fingertips (ever see prints on your hand tools?). The process also speeds up with temperature variations that cause condensation. In an unheated garage shop, as a cold night turns to a warm day, condensation settles on the tops of tablesaws, jointers, and bandsaws, as well as on hand tools left on a bench.
The corrosion starts on the surface and spreads like a rash. As corroded metal flakes away, fresh iron surfaces are exposed to the oxygen and water, and the process begins anew until the metal disintegrates. the key to stopping the degradation is to prevent water from mixing with iron and oxygen. And that's what these various coatings are meant to do.
From Fine Woodworking #227
For the full article, download the PDF below:
View PDF