Lumber and Materials: Our Favorite Articles
A roundup of our top articles and videos on lumber from Matt Kenney, Garrett Hack, and more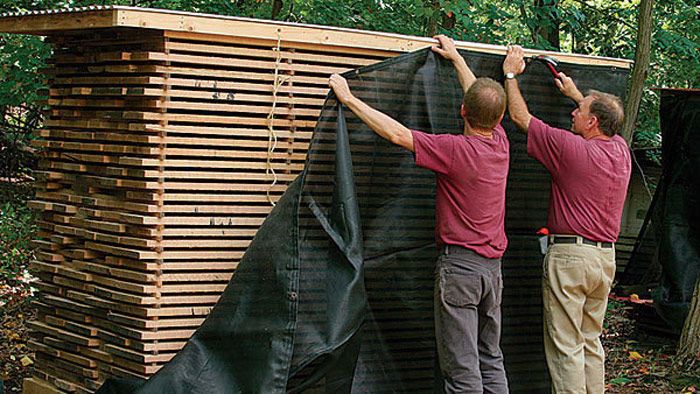 Our editors looked through our archives for their favorite articles and videos on lumber and materials. Featured below are the top seven articles and videos about choosing lumber, air- or kiln-drying it, leveling it with a shopmade router jig, and designing with grain.
---
Synopsis: In their desire to stick with familiar woods such as cherry, walnut, oak, and maple, many woodworkers miss out on exploring a gold mine of unusual trees. Furniture maker and contributing editor Garrett Hack shares his list of favorite woods that are often overlooked but are worth trying for your next project: flame birch, which is beautiful but difficult to plane; butternut, similar to walnut but with a handsome golden tan color; beech, which planes and machines well and sands to a perfect smoothness; apple, dense and full of character; and basswood, easy to work with a consistent color and grain.
by Garrett Hack
---
Synopsis: You can save money and enjoy the convenience of having a stockpile of great wood at hand if you learn to air-dry your own lumber. Dave Spacht, who has run a small sawmill for more than 25 years, demonstrates how to transform green wood into stable, seasoned boards. First, he'll show you how to properly stack lumber outside. Then, after you wait for about a year while it dries naturally, you'll take it indoors to complete the drying process. Use a little patience, follow Spacht's recipe, and you'll have dried boards with a minimum of warping, splitting, and end checking.
by Dave Spacht
---
Synopsis: At some point in your journey as a woodworker, you've developed your skills and acquired enough tools and you start to really think about the wood. It may sound simplistic, but wood is the woodworker's medium, and the truly great furniture makers think about it a lot. We talk to several to get their insights into choosing lumber, from the very specific to the conceptual. John Cameron, John Reed Fox, Christian Becksvoort, Tim Coleman, Peter Shepard, Brian Reid, Garrett Hack, Greg Klassen, Thomas Throop, John Tetreault, Philip Morley, and Michael Fortune share their views.
by Matt Kenney
---
Synopsis: Like most woodworkers, Matt Kenney loves beautiful wood. And he wants to use the best he can find in the furniture he makes. Woods like cherry, walnut, and white oak, however, can cost $6 or $7 per board foot, and much more in some regions. Even in the best of times, that adds up quickly. In these hard times, with everyone's purse strings cinched tighter, it's not easy to drop several hundred dollars on wood. That's why Matt began to look around for some furniture woods that were high in quality but lower in cost. He asked editors and longtime authors, he queried lumber dealers around the country, and he scoured the Internet. In this article, you'll find a roundup of six low-cost wood species available throughout much of the United States. Better yet, all cost less than $5 per board foot.
by Matt Kenney
---
Synopsis: The artful use of grain patterns can enhance the design and functionality of a piece of furniture. Not only can you arrange the grain to complement the overall shape of a piece, but choosing the right types of grain for different furniture parts can help those parts function better, combating movement in doors, drawers, and other parts. Using an English walnut sideboard as an example, Jason Roberts shows how to choose the correct grain type-flatsawn, quartersawn, or riftsawn-for different furniture parts, how to get the most from every board, how to straighten the grain when cutting parts, and how to resaw a beautiful board into veneer to get the most from it.
by Jason Roberts
---
Synopsis: Learn the secrets to drying lumber in this video hosted by author and furniture maker Mario Rodriguez. We traveled to Worcester, Penn., to the mini mill of Dave and Carol Spacht, for a comprehensive overview of the drying process. The video explains how a kiln works, how to build your own kiln, how to air dry lumber, in addition to a handful of tips on the drying process that only a seasoned sawyer can reveal.
by Mario Rodriguez
---
Synopsis: This shopmade router jig, designed by NBC sitcom star Nick Offerman, levels thick slabs to create Nakashima-style tabletops and other unique pieces. The heart of the jig is a trough that guides the router over the workpiece, allowing you to even out the high and low points as much as possible and retain the maximum possible thickness. It works relatively quickly, leaving only a few minutes of sanding left to do. For thicker slabs, Offerman shares a technique for routing flat channels in the bottom to hold the table base and leaving the rest of the bottom surface rough. He also shows how to clean up the sides and sand for a finish.
by Nick Offerman