Low-Cost Lumber
Learn how to build beautiful furniture from inexpensive lumber.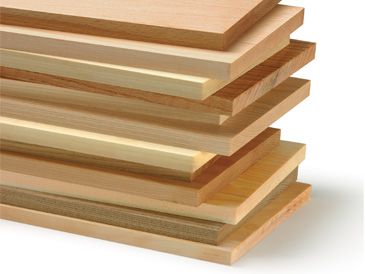 Like most woodworkers, I love beautiful wood. And I want to use the best I can find in the furniture I make. Woods like cherry, walnut, and white oak, however, can cost $6 or $7 per board foot, and much more in some regions. Even in the best of times, that adds up quickly. In these hard times, with everyone's purse strings cinched tighter, it's not easy to drop several hundred dollars on wood.
That's why I began to look around for some furniture woods that were high in quality but lower in cost. I asked editors and longtime authors, I queried lumber dealers around the country, and I scoured the Internet. Below, you'll find a roundup of six low-cost wood species available throughout much of the United States. Better yet, all cost less than $5 per board foot.
Looking for even more low-cost lumber options?
Download the entire guide from Fine Woodworking #205
Beech

Once favored for handplanes and other tools, beech is tough, even-grained, attractive, and fairly easy to work. It has the soft, fleshy tones of pear, with very fine, light flecks. Beech isn't known for its stability, so design accordingly.
Average price: $2-$3 bd. ft.
Hickory


With a warmth and tone similar to raw cherry, hickory is a beautiful furniture wood, even if it doesn't darken with age. It's extremely difficult to work with hand tools, but power tools can get the job done. Be wary of cracks: Once one starts, it tends to dive deeper. There are several type of hickory, shagbark being common, but there's little difference among them.
Average price: $3-$4 bd. ft.
Poplar


Poplar is often used as a secondary wood in furniture, and most woodworkers are hesitant to let it take center stage. One reason is its green streaking, which some try to hide under a coat of stain. But staining doesn't work well, because poplar is prone to blotching. Instead, finish with oil and let the poplar age gracefully.
Average price: $1-$2 bd. ft.
Red Oak


Plainsawn red oak, with big cathedrals of grain swathed in stain and encased in polyurethane, is often associated with factory-made furniture that has little personality. But rift or quartersawn red oak is a different story. The straight grain adds a clean, linear element to furniture, and its subtle ray fleck shimmers. It's often stacked, and priced, with the plainsawn stuff. You'll sometimes find curly boards in the same stack.
Average price: $2-$3 bd. ft.
Soft Maple


It's hard to believe that soft maple isn't more popular as a primary wood. It has a uniform color and a nice grain pattern that is often indistinguishable from hard maple, and it's much easier to work. Soft maple is great for ebonizing. There's more than one species sold as soft maple, but they're all maples and are essentially the same.
Average price: $3-$4 bd. ft.
White Ash


Less dense than oak, white ash is a joy to work with hand tools. It's easy to work with machines and power tools too. Given its weight, ash is tremendously strong, and it steam-bends very well, even when kiln-dried. So it's a great wood for chairs or any furniture parts, like legs and aprons, that might be curved. And the rich, creamy color of white ash makes it a great wood for fine furniture.
Averate price: $2-$3 bd. ft.
View PDF