Designing With Grain
English-walnut sideboard demonstrates how grain patterns can take a piece to the next level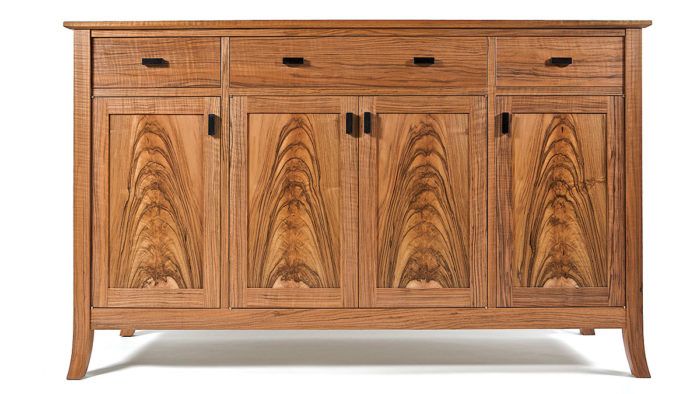 Synopsis: The artful use of grain patterns can enhance the design and functionality of a piece of furniture. Not only can you arrange the grain to complement the overall shape of a piece, but choosing the right types of grain for different furniture parts can help those parts function better, combating movement in doors, drawers, and other parts. Using an English walnut sideboard as an example, Jason Roberts shows how to choose the correct grain type-flatsawn, quartersawn, or riftsawn-for different furniture parts, how to get the most from every board, how to straighten the grain when cutting parts, and how to resaw a beautiful board into veneer to get the most from it.
---
Have you ever looked at a piece of furniture and thought something wasn't quite right, but you couldn't put your finger on it? The craftsmanship was impeccable and the proportions were nice. But something about the design still wasn't right. Chances are, it was the way the grain of the wood was arranged in the piece, or what I call the grain graphics.
Grain can add lines to a piece of furniture and enhance your project, but if it doesn't complement the shape, it will compete with or overpower the design. Color is critical, too. If it isn't consistent, it will be distracting. It takes extra time and effort to consider grain and color carefully when buying boards and cutting them up, but the benefits are many, and they go beyond appearance. Choosing the right types of boards helps certain furniture parts to function better, combating movement in drawers and doors, for example.
This sideboard, made from beautiful English walnut, is the perfect prop for a lesson in grain graphics. It contains most types of furniture parts: thick legs, thin panels, narrow frame pieces, a broad top, and so on. yet I was able to build the entire exterior— all of the visible parts—using just four boards, saving money but also guaranteeing harmony.
I depended heavily on resawing to stretch this special wood, but you don't need a large bandsaw to take advantage of many of my tips.
It all starts with the lumber
It's hard to turn bad materials into wonderful projects, so it is worth spending more for higher-quality lumber. Lumber selection does not have to be complicated. The best place to start is by using wood from the same tree: It will have the same color, grain, and texture. The easiest (though not least expensive) way to get matched boards is by buying boules or flitches of lumber.
It is harder to get consistent color and grain when the lumber comes from different trees. Yet there are plenty of woodworkers who do exceptional work without ever buying flitch-cut lumber. If flitchsawn isn't available or you don't want to spend the extra money to get it, the best solution is to dig through lumber piles and select pieces that match. It's not unheard of to find boards from the same tree in a stack. Look for distinguishing characteristics like knots and dark streaks that carry through boards. Whenever possible, cut like parts out of the same board to ensure they match. For example, cut all the legs from the same board; likewise for drawer fronts, aprons, and other parts.
Matching color, grain, and texture is not limited to solid wood. You can get more out of a thicker board by resawing it for parts or by slicing it into veneers.
---
Click here to see a list of boulles (flitches) suppliers.
From Fine Woodworking #206
For the full article, download the PDF below:
View PDF