Composing: A Flexible Design Process
Keep options open from the initial idea to the finished piece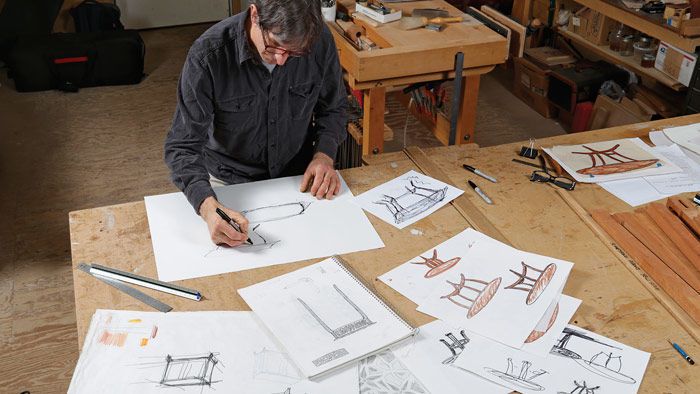 Synopsis: Take a look at the flexible design process Tim Coleman uses when designing furniture. Learned from James Krenov, "composing" a piece of furniture allows the maker to improvise and make changes to a piece as it is being built. It often begins with sketches, moves on to scale models and mockups, and continues as he works out the shaping, profiles, joinery, and details.
---
James Krenov as a composer
James Krenov may be remembered best for his charming, diminutive cabinets, his emphasis on unusual woods and hand-wrought details, and his practice of working with tools and methods that encourage intimacy between maker and material. As a student at the school where he taught, though, I learned the most by observing him immersed in the creative experience as he brought a piece to life: "composing," as he called it.
He would scurry about the workshop making parts, rough-clamping them together, stepping back with a fist under his chin, and looking long and hard. The piece might stay in that place for days before the next steps were clear to him. Other times he would see right away, take things apart, and chop 2 in. off the legs.
Composing, as Krenov saw it, was a way for the maker to have freedom to improvise and make discoveries during the build. One could respond to characteristics in the material as they emerged, and make changes to the piece as it evolved.
This method had enormous appeal to me. By creating a flexible process, I could weave together designing and ­building in a way that would allow me to be more spontaneous. Having worked this way for three decades, I've developed some strategies to leave wiggle room and manage what can be an unwieldy process.
Remember that learning the techniques of composing takes practice, like any other furniture-making skill. Try it on small projects at first, or on just a few components of a piece while you develop your own strategies and become comfortable with the process.
Before you build
In the beginning, all options are open. There is the idea of the piece and the desire to work, but where to start? Look for an anchor, a fixed starting point from which you can begin working and exploring possibilities for the next steps. Sometimes the search is easy, like when dimensions are determined by the space for the piece. Other times, the starting point is elusive and it may take some pondering before you find it. Ultimately, you are looking for a spark—it may be a sketch, model, mockup, full-size drawing, or mix of these—that gives you the confidence and energy to begin building. It's not necessary, or even desirable, to have everything figured out at this stage.
For the full article, download the PDF below.
More on FineWoodworking:
View PDF