How to Cut Mortise and Tenon Joinery
Woodworking experts Gary Rogowski, Garrett Hack, Roland Johnson, and others share their tips for success in this roundup of videos and articles from the Fine Woodworking archives.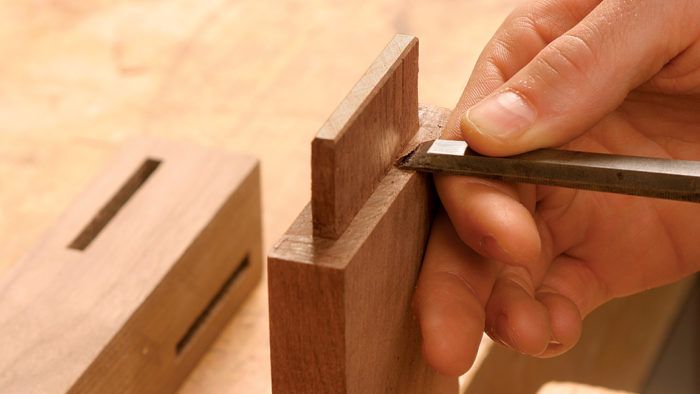 One of the most versatile joints, the mortise and tenon joint lends itself to being cut with hand tools, power tools, or several combinations of the two. There's also seemingly no end of commercial and shopmade jigs that make it easier to cut mortises, tenons, or both. Variations like through, pinned, draw-bored or wedged tenons also bring rich stylistic diversity to this joint.
Here at Fine Woodworking, you'll find an unparalleled depth of content on how to lay out, cut, and fit mortise-and-tenon joints like a master. We have more than 100 articles, videos, and tool reviews about mortise-and-tenon joinery and tools in our archives. To help you get started, we've selected 10 thorough and informative videos and articles, featuring leading woodworkers.
Synopsis: Using a plunge router, tablesaw, edge guide, and shopmade jig, Jeff Miller makes mortise-and-tenon joints that fit right every time. Here, he shares his technique and his plans for a simple jig that ensures well-cut mortises, then his tips for cutting and fine-tuning tenons for a perfect fit.
---
Synopsis: A video companion to the article above, showing a tried and true method for making mortises with a plunge router. A sturdy jig, used with a plunge router and edge guide, ensures well-cut mortises and better mortise and tenon joints.
---
Synopsis: An FWW contributing editor offers new tips and techniques for cutting, sizing, and fitting a mortise and tenon. Practice cutting this joint with hand and power tools, and learn new tips and techniques for cutting, sizing, and fitting a mortise and tenon joint. This video is part of a video workshop on building a round table.
---
Synopsis: Learn how to build a versatile jig to cut mortises in three ways using a router. Michael Fortune first created this ingenious jig to make clean and accurate mortises in curved pieces. He soon discovered that the jig works just as well in straight pieces and is flexible enough to use for end-grain mortising, such as for slip tenons. Fortune shares detailed information on building and using the jig. The article includes a project plan as well.
---
Synopsis: In this brief video, an FWW contributing editor explains how to use power tools to clear away most of the waste, then use chisels to finish the task. Learn to cut perfect mortises with a combination of hand and power tools in part five of our 10-question series on choosing and using chisels.
---
Synopsis: An FWW contributing editor shows his simple jig for aligning and drilling holes for a pinned mortise and tenon joint in a small table.
---
Synopsis: A peg driven through offset holes makes a strong mortise and tenon joint even stronger. This step-by-step video shows how to do it.
---
Synopsis: When you need to cut a lot of mortise and tenon joints, it can pay to take a page from Timothy Coleman's book and treat the whole process as a production challenge. He cuts dozens of joints using this system and is able to get a perfect fit every time. Using test pieces for all the setup and fitting, he is able to dial in all the setups and turn out perfect mortise and tenon joints directly from the tablesaw and bandsaw.
---
Synopsis: How to make a versatile jig from phenolic plywood to cut tenons on the tablesaw cleanly and safely.
---
Synopsis: In this video, Johnson covers all the steps needed to put a fine cutting edge on the chisel and bit of a hollow chisel mortiser. This tool allows you to cut fast, accurate mortises by machine.
---