Workshop Tip: Angle Bars Tame Big Panel Glue-ups
The simplest, most effective solution for gluing multiple boards edge to edge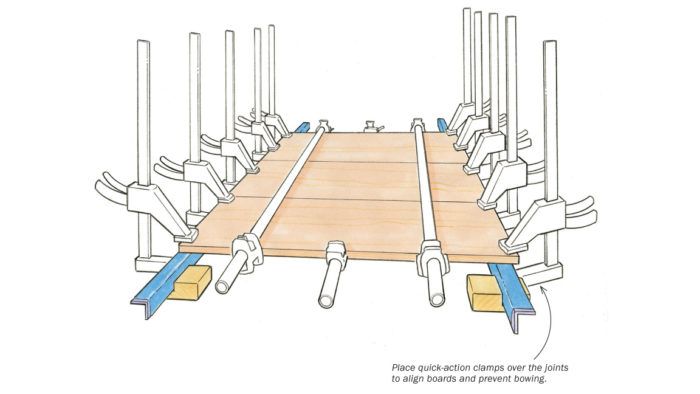 When gluing multiple boards edge to edge, a common woodworking practice, the clamping pressure often bows the assembly. Here is the simplest, most effective solution I've found. All it takes is two plain steel angle bars, available at any home center or hardware store, plus a few chunks of 2×4, slotted to hold the bars in the right position.
The great thing about this setup is that it not only lets me clamp the panel flat, but the 2×4 blocks also lift the whole assembly, making it easy to get bar clamps on both sides for even pressure.

It only takes a few minutes to cut slots in the 2×4 pieces (do that on a long piece before crosscutting it) and then put painter's tape on the steel angles to protect the wood and prevent staining when the wet glue hits them. The other nice thing about this system is that you can cut the angle bars to different lengths to match your projects.
The angle bars go at the ends of the boards, so when I place clamps right at the seams, the ends of the boards are aligned. As soon as the assembly is clamped, you can flip it to clean glue squeeze-out off the back side, and lean it against a wall to dry while you move on to the next task.
—Bill Jones, Farmingdale, N.Y.
More on FineWoodworking.com: