Get Serious About Clamping
Learn the science behind clamping, for perfect glue-ups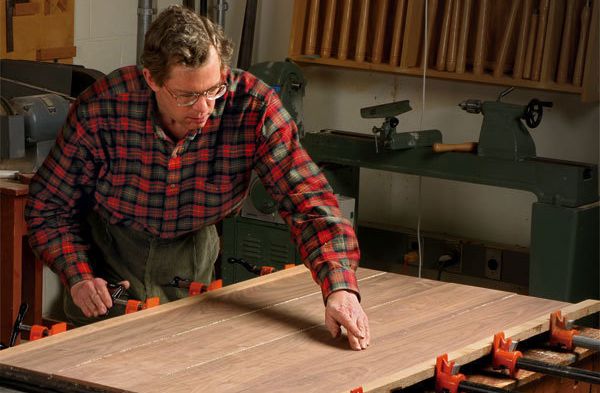 Synopsis: For most woodworkers, the glue-up process is an inexact science. But for wood technologist Roman Rabiej, judging the success and potential longevity of a glue-up is simply a matter of determining the clamping force you need, choosing the correct types of clamp, and placing them where they will do the most good. Rabeij explains the science behind clamping in terms that will ensure that you approach your next glue-up with confidence.
A common saying among woodworkers is, "You can never have too many clamps." Turns out, it might be more accurate to say that you can never apply too much force. Most woodworkers have only the vaguest idea of how much clamping force to apply when gluing boards. Even those perfectionists who rely on dial calipers and feeler gauges when cutting and planing wood often judge clamping pressure simply by the amount of glue that squeezes out. The results are occasional joint failures and embarrassing gaps between boards on the ends of tabletops.
During my career in wood technology I've done scientific studies of glue joints using different types of glue, different clamping pressures, different species of wood, and even different grain orientations.
Rather than blind you with science and make your next glue-up even more nerve-wracking, I'll assume you're using yellow (polyvinyl acetate—PVA) glue and I'll try to answer the following questions: What is the optimum force when clamping soft and hard woods? How many clamps should you use and how should you arrange them? And last, how can you test a sample joint to see if you are getting good results?
Use this information to approach your next glue-up with newfound confidence, and the only thing under pressure will be the wood.
Why correct clamping pressure matters
Optimum clamping pressure creates strong glueline joints in several ways. First, it overcomes the viscous resistance of the glue and forces it into a thin, continuous film in contact with the wood, which is necessary for a strong joint. Second, as the glue releases moisture, causing the wood to swell, clamping overcomes this pressure and prevents the joint from opening up. Third, it overcomes minor surface imperfections between mating surfaces. And fourth, clamping holds parts in position until the glue cures.
Too little pressure will fail to achieve any of these benefits. Conversely, extreme pressure can produce weaker joints, although as I'll explain later, this is unlikely with common woodworking clamps. Because modern glues are stronger than the wood fibers, a good glue joint should break in the wood, a process known as wood failure, rather than along the glueline. So rather confusingly, the higher the percentage of wood failure, the better the joint.
From Fine Woodworking #194
For the full article, download the PDF below:
View PDF