Contemporary Arts and Crafts Bed
Updated design combines solid walnut with veneered panels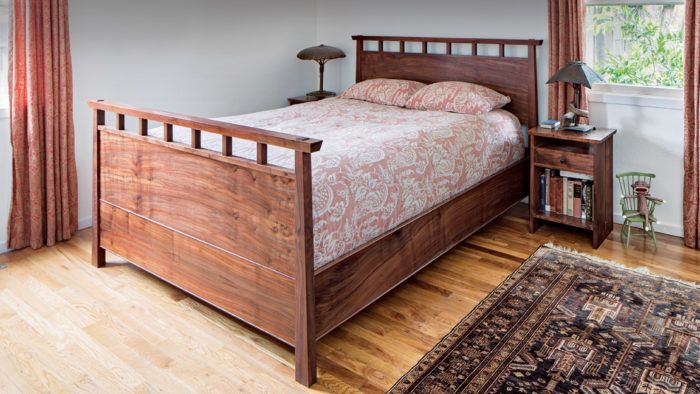 Synopsis: The design of this bed has many of the details of a traditional Arts and Crafts piece, with one notable exception. The simple lines, tapering legs, and through-joinery evoke the traditional style, but the use of veneers on the headboard and footboard adds a contemporary twist. The bed still appears to be made of solid wood, but the veneered plywood panels offer protection from wood movement and allow for perfect grain-matching and color-matching. This is also an economical way to use claro walnut.
A few years back I made a pair of solid walnut nightstands (FWW #247), and recently I decided to design a bed to complement them. The design echoes the same elements: simple lines, tapering posts, and a touch of through-joinery to evoke the Arts and Crafts period. But here's the twist—the bed also includes veneer, something you don't often see in pieces from that time period. Using veneer on the broad panels of the headboard and footboard meant I could eliminate wood movement and all the considerations that accompany it. The bed still appears to be made of solid wood, but its classic lines carry a more contemporary sensibility. And because I sawed my own veneer from the same stock I used for the solid-wood parts of the bed, the grain and color matching are perfect.
This bed frame is designed for a queen-size mattress and box spring, but you can adjust the dimensions to suit any mattress. Whatever mattress I use, I want the top surface to be 26 in. above the floor, which is ideal for sitting with your feet touching the floor. If you are using a box spring, the trick is to hide it behind the bed rails. I like to have its top surface 1 in. or more below the top of the side rails so that the area where sheets and blankets get tucked in is hidden. I also leave a 1⁄2-in. gap for bedding between the mattress and the bed rails on all four sides.
Choosing the lumber
I had a few choice large planks of claro walnut for this project. Because claro is precious and difficult to procure, I took considerable care in choosing and sawing out the parts. When choosing post stock, I looked for pieces whose grain and color would be balanced between the right and left posts. For the solid horizontals I wanted long, pleasing quartersawn grain if possible, so that the eye would not be distracted by a sudden change of color or line. There were many choices for veneer stock in this particular slab, from highly figured to subtle. I'm always attracted to the highly figured areas because of their dazzling beauty, but for this bed, in keeping with the understated feel of the nightstands, I eventually opted for quiet grain that rose in a subtle arc and had almost no color changes.
For the full article, download the PDF below.
View PDF