Understanding Quartersawn Figure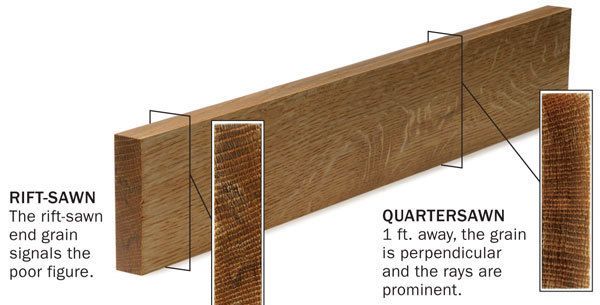 Q:
After resawing pieces of old, quartersawn oak, I found that some of the boards with rings that were 5º to 10° off perpendicular to the surface showed even better figure than some with fully perpendicular rings. Is there an industry-standard range defining quartersawn? And how important is it to stay within that range when buying oak for its ray-fleck potential?
John Gansauer, Moneta, VA
A:
The National Hardwood Lumber Association defines quartersawn wood as having growth rings that are 60º to 90º to the surface. I use that as a starting point when choosing white oak for my Arts and Crafts chairs, but it's not the final word.
Think of growth rings as undulating waves running the length of a tree, not as rigidly straight structures. (They're essentially a history of the stresses put on the tree as it grew, varying in shape and direction as those stresses came and went.) White-oak rings can be dead-on perpendicular at a board's end but change as much as 10º in just a foot or two.
As a result, the figure at the surface of quartersawn wood can change dramatically. I've seen many boards with prominent ray-fleck that peters out, only to return several feet down the board.
When buying quartersawn wood, a better way to determine how good its figure will be is to "read" the surface of the rough-sawn wood, looking for rays all along the board's length. A raking light helps bring out the figure.
Take a flashlight to the lumberyard. Raking the beam at a low angle along a board's surfaces might bring out the figure you can't see in overhead light.
Drawing: John Tetreault