How to Build a Nightstand
Housed tenons deliver strength, and tapers create a refined appearance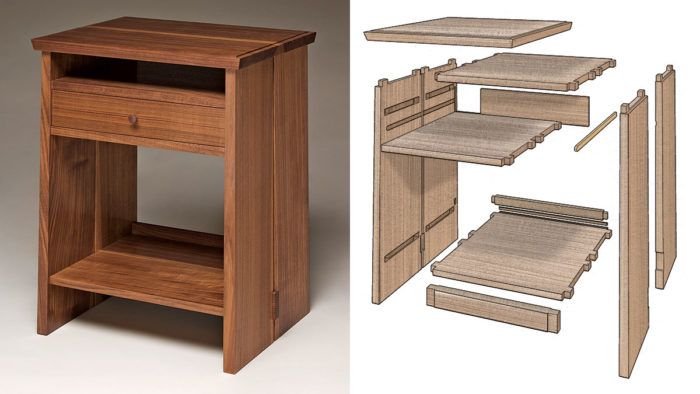 Synopsis: With its convenient shelf, drawer, and lower storage space, this nightstand is perfect for those who like to keep a lot of reading material next to the bed. The design features housed mortise-and-tenon joints, and the sides of the case are tapered both in thickness and in width. A beveled, stepped detail adds interest around the top, and a stretcher beneath the lower shelf has exposed tenons. The backbone of the project is the housed mortise-and-tenon joint, which has a stub tenon, or haunch, between full tenons. This gives the joint maximum strength, ensures a tight joint line, and prevents any warping.
I designed this piece for a retired librarian who wanted a nightstand that would double as a bookcase. Of course it needed a drawer, which I sized to accommodate pencils and paper or an iPad, along with other items. Since so many essential things compete for space on the top of a nightstand—lamp, water glass, books and periodicals, alarm clock, eyeglasses—I decided to drop the drawer a few inches below the top, creating an easily reached space for the night's reading matter. Below the drawer I left ample room to store a collection of favorite books and magazines.
Even while juggling these functional considerations, I was sharply focused on the nightstand's form. The design is essentially rectilinear, but I didn't want it to read as blocky and plain.
Aiming to add visual interest and give the piece a subtly elegant presence, I made each side from a pair of boards with a narrow gap between them. I also tapered the sides slightly both in thickness and in width. I added a beveled, stepped detail around the top, and a stretcher beneath the lower shelf with tenons that protrude through the case sides.
The nightstand's primary joinery is a favorite of mine for solid-wood casework: the housed mortise-and-tenon. Between its full tenons the joint has stub tenons, or haunches, that tuck into a mating dado, or housing. This arrangement gives the joint maximum shear strength; keeps the tenoned member from warping; hides any small openings that develop over time; and, because it has relatively small shoulders, makes it easier to ensure a tight joint line. I learned the housed tenon from my mentor, David Powell, at the school he ran in Massachusetts, Leeds Design Workshops. I've relied on this joint heavily over the years, and I think it's unparalleled in soundness and strength.
Photo: Don Russel
For the full article, download the PDF below:
View PDF