Tool Review: Grex H850LX Brad Nailer
The Grex H850LX 21-gauge nailer combines some of the best features of a 23-gauge pinner and an 18-gauge brad nailer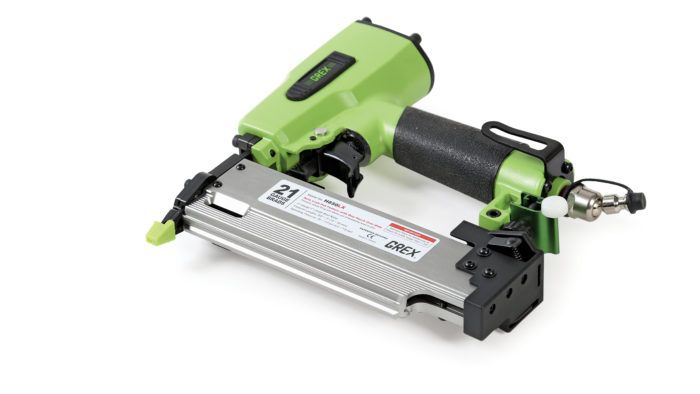 The Grex H850LX 21-gauge nailer combines some of the best features of a 23-gauge pinner and an 18-gauge brad nailer. Technically, it's a brad nailer since the nails have heads, but they're mini compared with those on an 18-gauge nail, so they leave really tiny holes, closer to a 23-gauge.
It can handle nails from 3⁄8 in. to 2 in. long, similar to an 18-gauge nailer, so you can use it instead of an 18-gauge in a lot of situations and save time on filling holes and final touch-up. It's perfect for nailing outside miters on crown, base, and picture moldings, as well as attaching that type of trim to cabinetry. However, I'd still rely on an 18-gauge when attaching trim to drywall.
The nailer fires like a typical 18-gauge by depressing the safety tip, but has almost zero recoil, like a 23-gauge. The H850LX is solidly built with an all-aluminum housing, so at 3.6 lb. it's rather heavy. There's a nifty removable edge guide that slides and locks onto the base of the tool, with a ruler on one side. This is helpful when nailing, say, 2-in. face frames to a 3⁄4-in. cabinet part, especially when the offsets vary. The nailer also includes several features that are fairly standard now on higher-end guns: removable no-mar rubber tip, auto-lockout mechanism to prevent firing blanks, a reversible belt hook, and a swiveling air coupler.
The H850LX 21-gauge won't supplant my 18-gauge nailer, but it could make my 23-gauge pinner obsolete.
—Tony O'Malley is a furniture and cabinet maker in Emmaus, Pa.
From issue #267—Mar/Apr 2018
More on FineWoodworking.com: