Even when we're finished, we're not
When a piece finds its purpose, it is home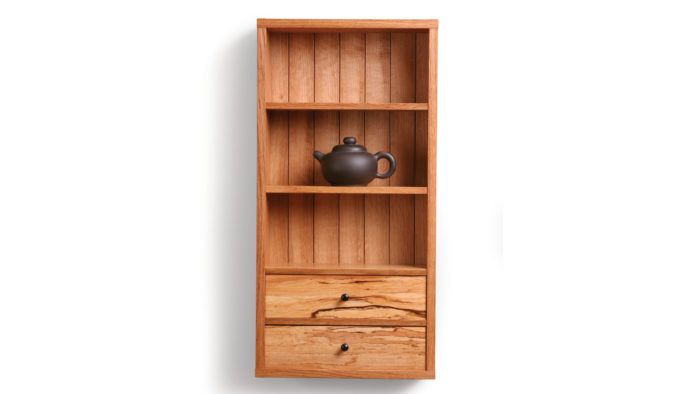 We have a new department in this issue, called From the Bench, devoted to inspirational woodworking stories. I can't imagine a better way to roll it out than with our own Mike Pekovich, who eloquently explains why he designs and builds with a purpose – and why you should, too. But this isn't an insider show. We want to hear from you: Tell us you personal tales of why you work wood, about your inspirations and influences, or key turning points in your woodworking journey. You can send stores to [email protected]; we'll pay for any we publish. – Tom McKenna, Editorial Director
Building a piece of furniture is a long process and I typically think of that last coat of wax as the finish line. Lately, though, I've been thinking that even then, even after the piece leaves the shop, it's still not quite complete.
Whenever I bring a finished piece into the house, I go through a familiar routine. I'll stare at it for a while, pretend to ignore it, scowl at it. You'd think there would be some sense of satisfaction, a hint of admiration or self-congratulation in all of the attention. Not really. My interior monologue usually goes something like "are the lines right, are the proportions correct, is the finish perfect?"
More to the heart of the matter, "did I capture that spark of inspiration that led me to mill up all of that beautiful lumber in the first place?" None of the questions have an easy answer, nor are the ghosts of ambivalence easily put to rest. After a while I reach a sort of mental truce and leave with this thought: "Another piece thoughtfully designed and carefully made, but ultimately imperfect in some intangible way. Oh well."
But then a subtle transformation begins. A new table is soon adorned with a water glass and a TV remote. A cabinet gets filled with wine glasses or toilet paper and dental floss. A drawer is filled with socks or last summer's seashells. After a while utility begins to breathe life into the piece, and those things that bothered me about it at first somehow don't bother me as much anymore. I assumed that I just needed to get used to a piece, but finally realized that it was really about getting the piece into use.
The problem wasn't necessarily that the piece wasn't perfect (none of my pieces are, though I tend to like them well enough anyway), but that it was simply incomplete. It's a strange notion considering the time and effort that goes into making it, but I realized that we as builders can only take things so far.
I made a simple wall cabinet a while ago. It was nice, but what really brought it to life for me was a little teapot that I decided to place on the center shelf when photographing it. It dawned on me that without the teapot, the cabinet with its bare shelves was lacking something. The teapot completed the picture. There was a quiet hum to it, a feeling that neither of the two separate notes could quite conjure on their own, but together they created a harmony.
Early in my woodworking journey, I made boxes as a way to explore ideas and techniques. I still have some of those boxes. They are still empty. And in their emptiness they are somehow incomplete. A box is a container after all, and if it is conceived without a thought to what it might contain, no matter how beautiful or finely crafted, it will lead a life that's incomplete.
So I don't make boxes anymore. Instead, I make salt boxes, or tea boxes, or kindling boxes, or jewelry boxes. I make containers with a purpose. And I make furniture to serve a purpose, for my family and for others. I still build it as soundly as I can, and I invest every ounce of my will, intellect, life experience, and creative intuition into it. But now, I'm also beginning to invest a little patience and faith in the notion that a piece will attain its full potential only in time and with use.
More on FineWoodworking.com: