Design journal: A tea box gets a face lift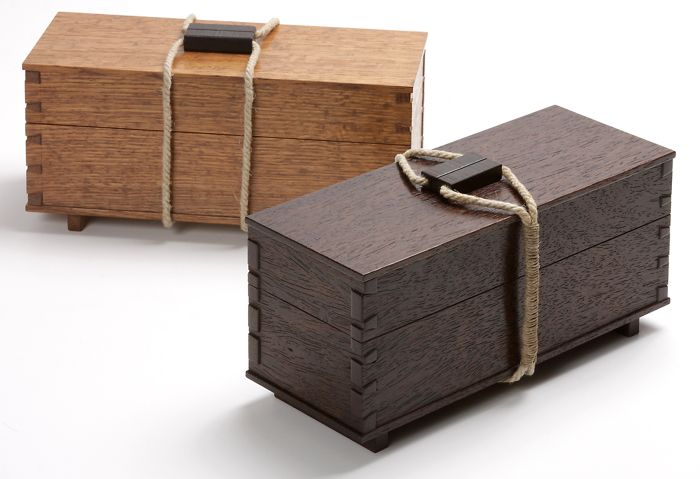 I've written in the past about being haunted by past missteps in my work and how remaking a piece is a good opportunity to exorcise those demons.
Here's a case where I took another stab at a design that I was fairly content with, and still found a way give it a different spin. I taught a class on making a tea box at Connecticut Vally School of Woodworking recently and used this box for demonstrations. Finishing up the box in my shop over the holidays gave me a chance to address one of my favorite, and least favorite, parts of the box- the rope handle. Asa Christiana, FW's editor, summed it up well when he first saw the original, "I get what you're trying to do, but it looks…well… not quite finished."
I liked the rope as well, but wondered what else I could do with it. I tried wrapping the two lengths together on each side to possibly give it a more finished look. The result adds a little different flavor to the finished box. I really like the English brown oak of the original, but the wenge certainly adds some drama.
The original box was made from English brown oak. The newer version is wenge. It's a pretty wood, but not much fun to work with. Watch out for those splinters!
The main difference was the treatment of the rope handle. I decided to wrap the 4mm cord with a thinner cord. The resulting triangle shapes at the top were a pleasant surprise.
The bottom got an update as well. This is a pretty clunky solution for securing the rope. I knew I had to come up with something better if I were to teach the box as a class.
I think this is a cleaner solution. An added cross bar with holes keeps the rope from sliding side-to-side. They also give me a place to terminate the ends of the cord without having to tie a big old knot. Those screw holes in the corners of the feet? Yes, they bug me a little, too, but I have and idea for those...
A variety of textures. I accentuated the grain of the wenge by burnishing it with a wire brush before finishing. To add texture to the ebony clasp, I ran the parts through the bandsaw taking a light, skimming cut. Then I hit it with steel wool and wax. I think those textures help tie in the texture of the cord with the rest of the box.
One final surprise. I substituted spalted maple for pine on the interior dividers.