Laguna Revo 18/36 lathe
Stout lathe with standout details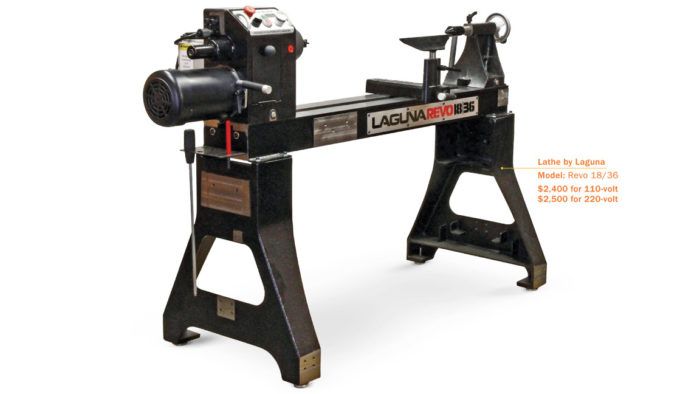 The new Laguna Revo 18/36 lathe, which has 18 in. of swing and 36 in. between centers, arrived at my shop just in time for bowl-roughing season. While most lathes would not be up for the task, the Revo 18/36 managed well.
Someone clearly put a lot of thought into this machine. The 2-hp motor is very powerful, and adjusting the speed is smooth and quiet. The conical nose on the headstock is a great feature that will aid in power sanding and removing tenons from the bottoms of bowls. The tailstock has all the features it should have, most importantly a locking mechanism that holds it securely to the bed. The quill is laser etched with a measuring scale and travels more than 4 in. The banjo is very user friendly and clamps down securely. The tool rest is well designed, allowing the user to place it directly in front of the work without anything getting in the way. It also has a hardened steel rod across the top that allows tools to glide smoothly.
With an additional outboard attachment ($500), you can lengthen the lathe's capacity by 20 in. for spindles and its maximum swing for bowls to 32 in., and since the headstock slides, you can handle these big bowls between centers. But while the sliding headstocks on most lathes are inherently weak—they can't be tightened enough to dampen vibration, especially when you're using a bowl-coring tool—the Revo managed better than most.
One outstanding feature is the lathe's center-point alignment and slide clearance adjustments. If a lathe rests on an uneven floor, the tailstock can twist out of alignment with the headstock. The adjustment features ensure that if the lathe settles, it can be realigned. There are also two optional articulating floodlights that are very user friendly compared with the after-market lamps I own. There is no such thing as too much lighting around your lathe. Overall, the engineers at Laguna have made a machine that should be around for a long time and will challenge its competition.
—Michael Mahoney is a professional wood turner in California.