Philip Morley makes a great rocker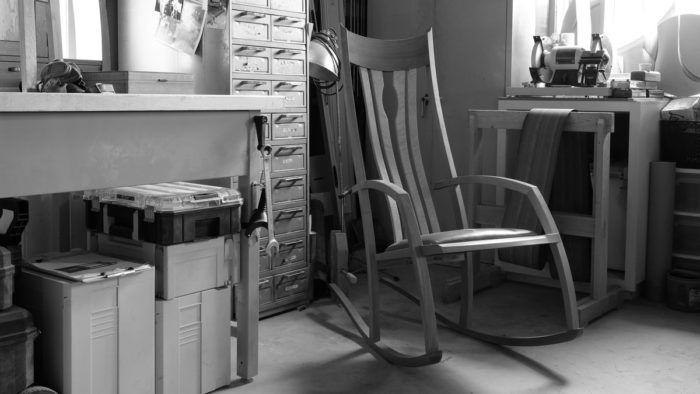 One of the things I like about traveling to an author's shop to take photos for the magazine is that I get to know her or him beyond the article we are working on together. Earlier this year, I flew down to Texas and ended up a bit south of Austin, in a lovely little town called Wimberely. Awaiting me there was a fine chap from London, Phil Morley (website). I knew Phil from his amazing Instagram account, and had exchanged some emails with him. We'd also spoken on the phone and sent emails back and forth about his article in Fine Woodworking #264, "Smart Technique for Gluing Thin Panels." For all that, I had no idea what he'd really be like. He's great, and we got along wonderfully. It helps that we have similar senses of humor. I can't wait to get back down to his little corner of the South for another photo shoot (we have two articles in the works).
Beyond getting to know Phil a little better as a person, I got to see first hand what his Instagram account shows on a daily basis. He's a phenomenal furniture maker. I had seen his rocker several times on his Instagram feed, but when it comes to chairs there is no substitute for plopping your butt down in the seat. When I finally took a rest in one of his rockers, I was overjoyed, because it was tremendously comfortable. The rock was perfect. My arms fell just right onto the rests. I could have sat there all morning. I wish I had, and fallen asleep to boot. So, if you are ever at a craft fair in the Austin area, and hear a guy with a British accent (and perhaps a hip straight-billed truckers cap on his head) speaking passionately about his furniture, look for a rocker and ask to have a seat. You won't regret it.