Workshop Tip: Squeeze your way to tight tenons
Tom McKenna shows you how to dial in the fit of your tenons with a hammer and vise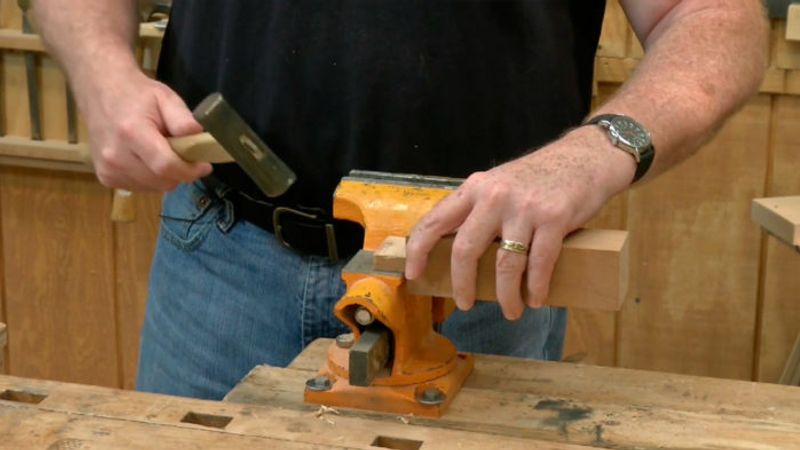 Based on:
Peen your tenons for easier assembly and a locked joint
Workshop Tips – Issue #263-Sep/Oct 2017
Compressing tenons with a hammer and vise makes assembly easier and prevents the mortise from scraping off all the glue during assembly, which can starve the joint. I learned this amazing technique from my friend and mentor, Steve White, who studied with a master joiner from Japan. You'll need a Japanese hammer ($30 at HidaTool.com for a 13-oz. version with one flat and one crowned face) and a small steel anvil (inexpensive used or new).
Cut the mortise first, then the tenon. Make the fit a bit snug, so it requires some pressure to get the joint together. Next, use the flat side of the hammer to peen (slightly compress) both sides of the tenon, resting it on the anvil and making sure not to hit the shoulder. Then use the flat jaws of a metal or hardwood vise (I prefer metal) to squeeze the part of the tenon next to the shoulder. The tenon should slide in and out fairly easily.
Having planned out your clamping beforehand with a dry-fit, use a brush to apply glue to both mortise and tenon. Slide the joint together (it will be easy now) and close it tight with clamps. Moisture from the glue will swell the tenon back to its original size for a tremendously strong joint. One note of caution: If the mortise walls are thin, clamp the sides of the joint to stop it from expanding outward.
—Todd Bradlee, Bishop, Calif.