Furniture, Nailed
Old-fashioned cut nails make furniture that's strong, stylish, and a pleasure to build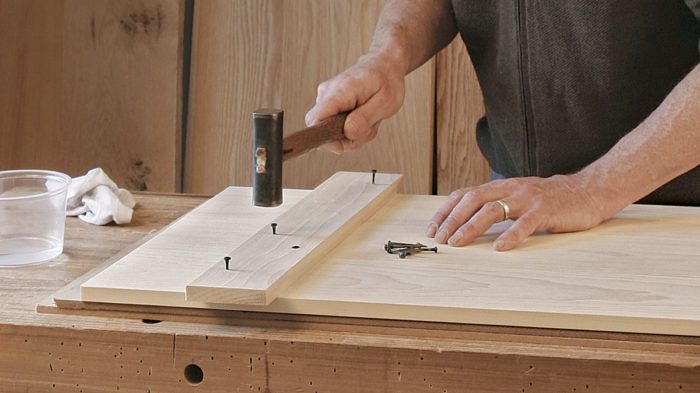 Synopsis: Nailed joinery offers style, freedom, speed, and strength. Furniture makers have been using it for centuries, and Andrew Hunter often chooses nailed joinery when designing his furniture. His nail of choice is the cut nail, a vintage design with square tips that cuts through the wood rather than wedging it apart like the wire nails of today. Here he gives tips on different types of nails available, how to drive a cut nail, and how to use cut nails effectively for strong joints.
For me, joinery is right at the heart of furniture making. The type of joinery I choose determines not only the strength and appearance of a piece, but also the satisfaction I find in building it. And I like exploring all sorts of joinery. I often use traditional Chinese joints, which are beautiful and intricate and demand tight tolerances and extreme patience. But I'm also drawn to building with cut nails. I love the freedom and speed of working with nailed joinery, the great strength this time-tested approach delivers, and the rustic beauty of exposed iron nail heads against a gleaming, hand-planed wood surface. While complex joinery is always respected, using nails for furniture making got a bad rap somewhere along the line. We need to change that! In this article, I'll lay out what you need to know to get started working with cut nails.
When using nails in my furniture, I choose cut nails. They come in a wide array of interesting head shapes, and they easily outperform wire nails. Their square tips cut through the wood instead of wedging it apart like the pointed tip of a wire nail. This reduces the risk of splitting. And the shanks of cut nails are tapered in one dimension—which you align with the grain—producing better grip. As cut nails puncture the wood, their taper bends the cut wood fibers like so many tiny fish hooks, locking the nail in place. As a bonus, the distinctive heads of cut nails add a historic character even to modern designs.
We've all been hammering wire nails successfully since we were little, but driving cut nails properly for fine furniture might require some retraining. The most important difference is that before you drive a cut nail you need to align it with the grain of the wood.
For the full article, download the PDF below:
View PDF