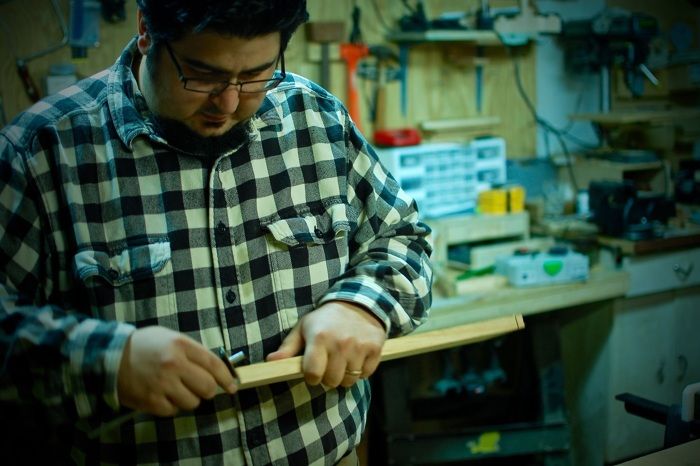 So here I am, sitting in a cubicle in the Fine Woodworking offices. The new guy. I don't have a name plate yet, but I'm sure it's coming. I can tell you right off the bat that I am far outmatched as a woodworker in this office. But I am passionate about woodworking, and as the new web producer for FWW I'm excited about creating a bridge between the phenomenal woodworkers and writers here in Newtown and you, the readers of Fine Woodworking.
I grew up just a few miles away in Bethel, Conn. Back then I couldn't have cared less about woodworking. I was a musician and engrossed myself in my chosen art. I wound up in Boston attending Berklee College of Music and received a degree in music production and engineering. A week after graduation, I moved to Nashville and was lucky enough to find myself engineering records for Peter Cetera, ZZ Top, Amy Grant, and many others. My wife and I bought a house, and like many of you, I became drawn to woodworking while renovating our home.
After 10 years of working as a freelance recording engineer, I started doing video and audio editing for Lost Art Press and was wiggling into the woodworking publication world. When I saw the posting for this job, I emailed it to my wife and said "wouldn't this be perfect." Well, here I am. I can't begin to tell you how excited I am to get to work.
So what can you expect from me? Not only do I want to give you a glimpse into the inner workings of the magazine and website, but I also want to give the readers more of a voice in the content on the site. I'm going to make sure that Twitter, Facebook, YouTube, and Instagram will be places where you can reach out to us and get a response from a real live woodworker.
The podcast will forge ahead full steam but with some noticeable tweaks in audio and video quality. From the Video Workshop series to the incredible vault of articles from the magazine, our content on FineWoodworking.com is second to none. And we are working on a better, more streamlined website to deliver the content to our members and visitors. Just know that this will take some time.
I'm proud to be working at the leading woodworking magazine with 40 years' worth of history and honored to be a part of such a talented staff. I'm going to work my tail off for both Fine Woodworking and for you, the readers.