Break Out the Hand Tools
Sometimes hand tools cut the joint faster and easier than machines or power tools.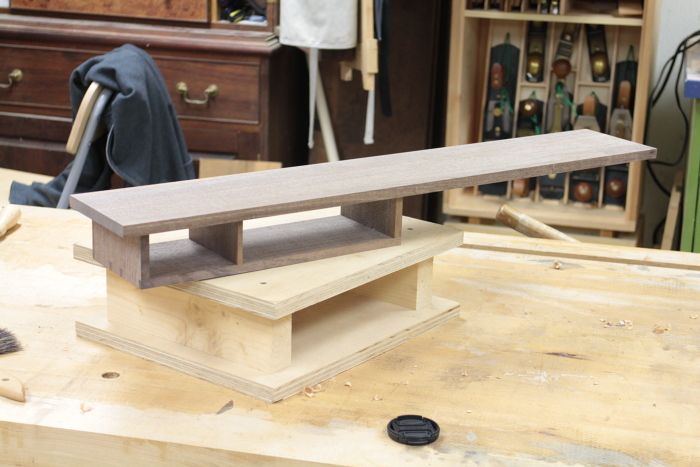 Like many woodworkers, I love tools and enjoy talking about them. I truly enjoy listening to someone talk about his favorite tool, and the joy he gets from using it. But there are some conversations about tools I avoid. I'd rather not debate whether new machines and hand tools are as good as the old ones. And I don't care if some random, anonymous person on the internet thinks this or that hand plane or that router costs too much (actually, I don't even care what someone I know thinks about that). But the conversation about tools that I find the least interesting and productive is the one where folks identify themselves as either hand tool or power tool guys and then argue the superiority of their side. If I were forced to answer this question myself, I'd say that I'm neither a hand tool nor a power tool guy. I'm a furniture maker. And the tools in my shop are just that, tools.
If your true interest in woodworking is to make furniture, you should learn to use machines, power tools, and hand tools. They all require skill and practice to master. And with a larger arsenal of tools at your disposal, there will be fewer limits on the furniture you can make. You'll also be able to work smarter and more efficiently, always able to choose the tool and technique that enables you to get a particular task done accurately, quickly, and with the least frustration.
There are many cliché examples I could give you in support of my point. It's true that you can't beat a jointer, planer, and bandsaw for milling stock. And no random orbit sander can prep a surface quicker or better than a well-tuned smoothing plane. Instead, I'll tell you about a small piece of furniture I'm making and some dadoes that needed to be cut. You can see the (not completed) piece in the photo above. It's a shelf with a two small drawers beneath it. The dadoes in question are the ones for the vertical divider between the drawers. They are 1/8 in. wide and 3/16 in. deep. I often cut small, stopped dadoes like these at my router table. Here's a blog about how I do that. The router table technique works so well, because you use a single fence setting to rout both dadoes. And this is possible because the dadoes are equidistant from the ends of the case sides.
However, the router table technique would be a huge pain in this case, because the shelf overhangs drawers. The dado in the underside of the shelf is further from the end than the dado in the top side of the drawer pocket bottom. To use the router table, I'd either have to move the fence between cuts (and that would almost certainly result in dadoes that were not aligned correctly), or make a shim. The shim would go between the fence and the drawer pocket bottom. But getting the shim the exact right width would be a tedious job, requiring lots of tests cuts and involving plenty of frustration. So, the router table was out.
Fortunately, I know how to cut a dado with hand tools. And this turned out to be the much faster way to cut the dadoes. And it was very easy to get them perfectly aligned. With the case assembled, I used a square to mark the location of both dadoes at the same time on the back edges of the parts, and referencing the square off the top face of the shelf. After taking the case apart, I used a square and knife to mark the sides of the dadoes. I set a combo square for the dado's length and marked both with a pencil, again referencing off the back edge. I then got to work cutting the dadoes. (There is a great article by Vic Tesolin in the next issue of Fine Woodworking that shows a technique similar to the one I used.)
Here's what I did (see the photos above, too): First I deepened the knife-cut layout lines with a chisel. Next, I chiseled out the waste, using a chisel held bevel down and pushing it down the length of the dado. This won't take out all of the waste. So, cut deeper down the sides with a chisel. Then go back to the bevel down chisel. Repeat until you are nearly to the final depth. Now break out your router plane and use it to take the dado to its final depth. I cut both dadoes in a less time than it would have taken me to make the shim and rout the dadoes. (If I didn't need the shim, this technique would not be faster than the router table.)