Minwax - Fast-Drying Polyurethane Varnish
Minwax Fast-Drying Polyurethane dries in about two hours to a light-colored semigloss sheen.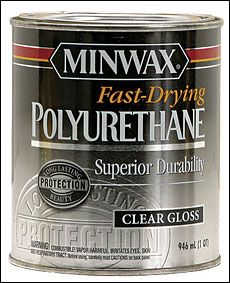 Minwax Polyurethane: Best Value, Above-Average Toughness
From FWW #245 (January/February 2015)
By Mark Schofield
Street price/qt.: $10
Coats needed – wiping: 3 to 4
Coats needed – brushing: 3
Surface quality – wiping: Excellent
Surface quality – brushing: Excellent
Shimmer/depth*: Excellent
Figure**: Excellent
Scratch test: Very good
Comments: Designed for brushing, but also wipes easily. Builds quickly with beautiful results and above-average toughness.
*Tested on cherry
**Tested on curly maple
From FWW #178 (July/August 2005)
By Chris A. Minick
The author tested 15 wipe-on finishes, including a water-based finish and both tung-oil and linseed-oil-based finishes. Pure boiled linseed oil and Minwax Fast-Drying Polyurethane, a brushing finish, were added for comparison. All the finishes were tested on pieces of red-oak plywood cut from the same sheet. The Minwax Fast-Drying Polyurethane, as its name suggests, dried in just two hours to a light-colored semigloss sheen with excellent water resistance.
More from FineWoodworking.com