M.POWER Tools - M.POWER CRB7 MK3 Multi-Purpose Router Base
Can be configured to rout arcs, small and large circles, and both centered and off-center mortises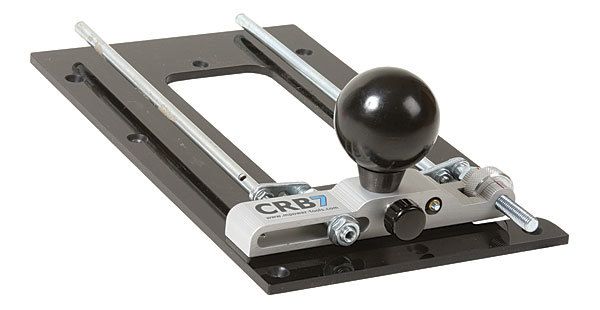 Router Base Does the Work of Many Jigs
The M.POWER router base attaches to a router with two rods, just like many edge guides. But that's where the similarities end. The multi-function base can be configured to rout arcs, small and large circles, and both centered and off-center mortises. For edge-routing, the base can be used offset with a comfortable knob to help keep it flat on the workpiece, or with an anti-tilt leg that registers on the benchtop and prevents the router from tipping.
You could make jigs that perform these same jobs, but they won't be as easy to set up and adjust. This base slides smoothly on the rails that attach it to the router, and has a micro-adjuster that makes small changes to bit location a snap. This makes the CRB7 MK3 a good accessory for your router, especially if you'd rather not make a bunch of jigs.
However, not all of the base's functions work well. When set up for large arcs and circles, for instance, there is too much flex in the single trammel rod, and it attaches to the base off the center line. And the anti-tilt leg doesn't work as well as simply taping a strip of wood the same thickness as the workpiece to the bottom of the router base.