Pattern Routing Jig is Safer and Faster
Clever jig makes pattern routing safer and faster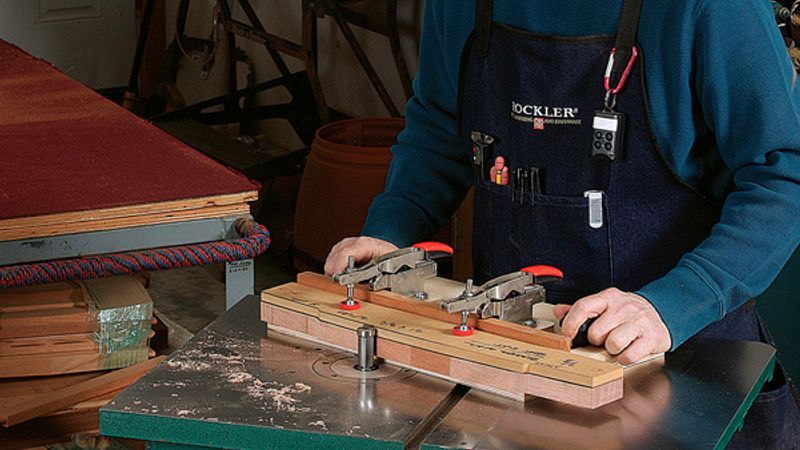 Ed Pirnik and Cari Delahanty
Pattern routing is the perfect technique for cutting multiple, identical workpieces quickly and accurately. With this method, a workpiece is rough cut to its shape at the bandsaw, and attached to a pattern which rides along the bearing of a router bit mounted to a router table. Perhaps one of the most common methods for attaching the pattern to the workpiece is double-stick carpet tape, and while this works, it can be a bit dangerous. The key to using a router table safely is keeping your fingers well away from the spinning bit, and Seattle-based woodwork Tim Celeski has a brilliant solution.
Celeski's pattern routing jig is composed of two independent components: a base plate and clamping plate. The clamping plate can be locked down to its mating base plate in a variety of positions to accommodate a wide range of pattern shapes. Best of all, the jig uses large toggle clamps which double as handles. They keep your hands clear of the spinning bit and offer great control. In this short video, Fine Woodworking senior editor Matt Kenney demonstrates the jig and explains its construction.
A Variety of Base and Top Plates for Versatility
For even more versatility, Celeski has come up with a wide variety of alternate bases and top plates.
This 60-in. base is used for shaping longer parts. Although it's not used very often, it's come in handy for shaping pieces as long as 8-feet.
A 42-in. base is often used for larger furniture parts.
This single clamp top plate gets into positions that the larger two clamp plates just can't.
A small radius base is used for small shaped parts that have a curve in them. Either side can be used for shaping both inside and outside curves.
This small top plate with a single clamp is very useful on tight curves.
A large curved base is dedicated to shaping the curves on the back legs of chairs. Both the inside and outside curves can be used to shape either side of a leg.
This extra two/three clamp top plate is essentially the same as the one featured in Celeski's article, with one exception; he's added an extra base for an optional third toggle clamp that can be added to secure very small furniture parts.
Celeski's basic two clamp top plate.
A 24-in. three clamp top plate is used "all the time" for parts that are just a bit too long for the smaller two clamp top.
More from FineWoodworking.com: