Smart Jig for Pattern Routing
Rout multiple shapes with just one jig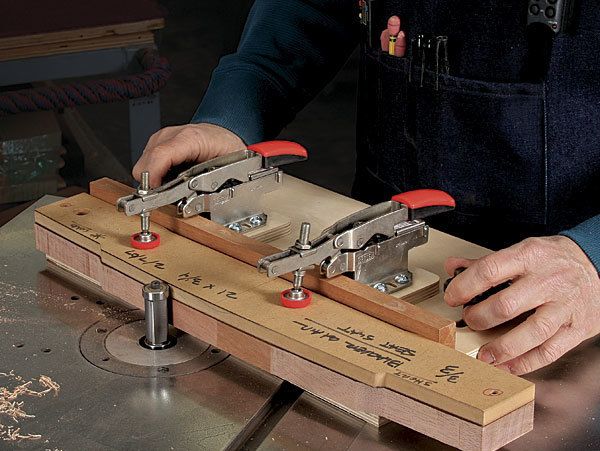 Synopsis: Pattern routing is an ideal way to make identical parts, and the best way to be successful is the use a well-designed jig. This jig, by Tim Celeski, secures the work regardless of shape, and eliminates the need to make a new jig for each project. The modular design, including a base and a clamp plate that can be adjusted for different size workpieces, is the key.
Just about every piece of furniture I make involves shaped parts, and I often need to reproduce a shape several times on the same piece. I quickly learned there is no better or more efficient way to make identical parts than to rout them to a pattern. Now nothing gets made in my shop more than once without using a pattern.
I've also taught furniture making, and I've noticed that pattern routing makes many woodworkers nervous. It's understandable. There's an exposed cutter spinning at high speed, working hard to throw the workpiece being routed away from you. The only way to get over that anxiety is to learn how to rout to a pattern safely.
One of the key elements of safe pattern routing is a well-designed jig that holds the workpiece and pattern securely. of course, patterns and workpieces come in a variety of shapes and sizes. You could make a jig tailored to the shape and size of each of your patterns, but that's a waste of time and materials. Instead, I designed and made a jig that can be adapted and used to shape a number of different patterns. It's safe to use and easy to make.
The jig has two parts: a base and a clamp plate, which is outfitted with two self-adjusting toggle clamps that hold the workpiece and pattern to the base. This plate can be adjusted on the base to accommodate narrow or wide workpieces, and angled for tapered workpieces—threaded star knobs lock it to the base. I've also spaced the jig's key elements (the clamps and star knobs) so that you can easily use more than one clamp plate on a base (I've found that 31 ⁄2 in. apart is ideal).
For the full article, download the PDF below:
View PDF