Drawer pulls in tight spaces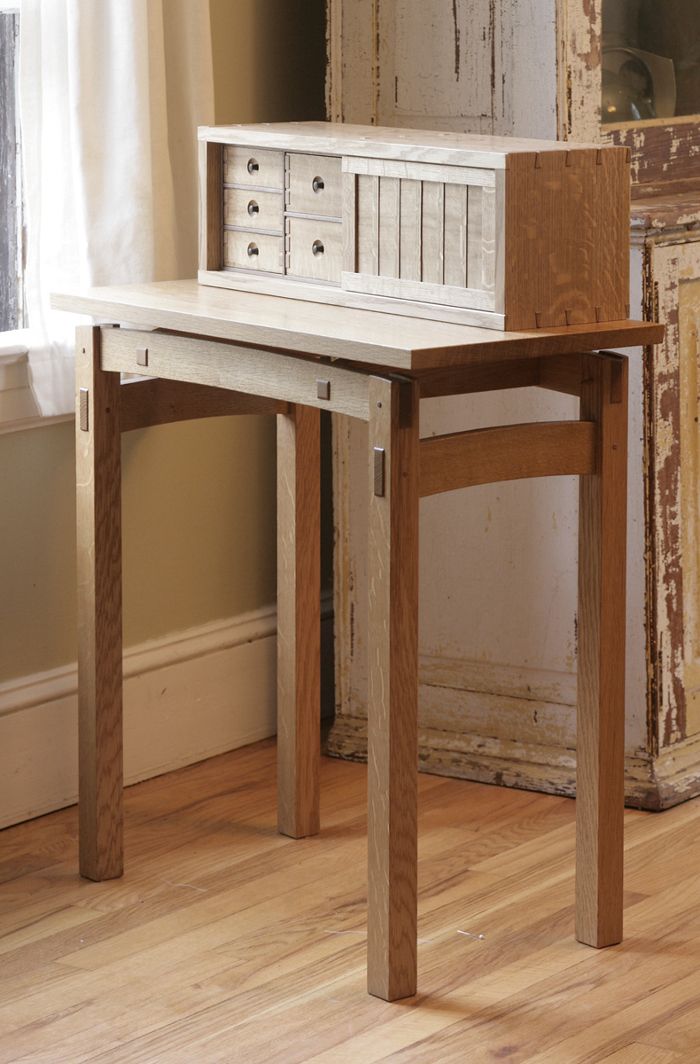 I recently built a jewelry box for my daughter that featured a bank of drawers behind a sliding door. There wasn't a lot of room between the drawer fronts and the door, so I was challenged with the task of coming up with a low-clearence pull. My first thought was to drill a hole in the drawer front that you could reach a finger into, but since it was a special piece, I wanted something a little more elegant.
In the end I decided to create a recess in the drawer front and install a turned pull in the center of it. The recess allowed me to inset the pull almost flush with the front and still allow access to grip it with your fingertips.
I was going to carve out the recess with a gouge, but faced with 10 drawers, I decided to break out my router.
A recent project for my daughter, this jewelry case is made from white oak, brown oak, and walnut.
The door slides back and forth to reveal two banks of drawers. One bank is made of walnut, the other, brown oak. The challenge was to keep the door from hitting the pulls.
To make the recess for the pull, I started by drilling a hole for the pull in the drawer face. Then I wedged it in place to rout the recess.
I centered a template over the drawer front and clamped it in place. The I routed the recess using a router equipped with a guide bushing and 3/8 inch core box bit.
The finished recess just needed a little sanding. I installed the pulls after the drawers were assembled and finished.