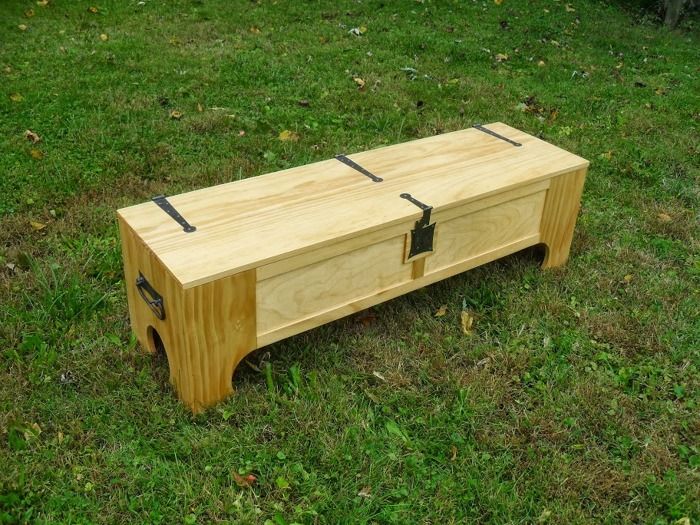 This Box-bed was created and designed by Robert MacPherson to fit a rather strange niche.
Medieval re-enactor MacPherson designed this knockdown bed to be used during his extended trips to Pennsic, an annual event that gathers more than 10,000 re-enactors and medieval enthusiasts for two weeks of life in the Middle Ages. It is typical for campers at the event to construct elaborate campsites, knockdown beds and furniture that are easy transport.
The majority of the project is made of select pine; the panels are birch plywood. The finish is semi-gloss polyurethane.
---
More on Beds
---
The lock and most of the hinges were hand made out of necessity, as the dimensions MacPherson needed were unavailable. He used 16 gauge steel to form each piece, applying a blue-grey oxide finish with a torch and finishing with polyurethane to prevent corrosion.
"I did use screws to make things easier on myself," MacPherson admits. While the use of threaded fasteners wasn't feasible until the late 15th century, he "never intended this to be a pure project. Broadly speaking, this bed-box is to medieval as steampunk is to Victorian."
According to MacPherson, the most difficult and rewarding part of the build was ensuring that all of the unfolding, interlocking, and movable pieces worked in conjunction. "I have pages of notes, sketches, and a 1/6 scale model," exclaims MacPherson. "Most of them represent dead ends, but it's all part and parcel to a prototype."
MacPherson's work resulted in a stowable unit that weighs about 100 pounds and can be brought to a medieval camping event, equipped with a futon mattress and unfolded to become a full-sized bed fit for medieval royalty.
MacPherson's Bed-box looks like a standard blanket box from the outside.
As the lid folds back, the inner workings of the box are exposed.
Pulling the handles from the box frees the front face and allows the bed rails to unfold and extend.
The dovetailed slats and central support add rigidity to the support the mattress.
The Box-bed was made to accept a lightweight, portable futon mattress.