Turning Tools on the Cheap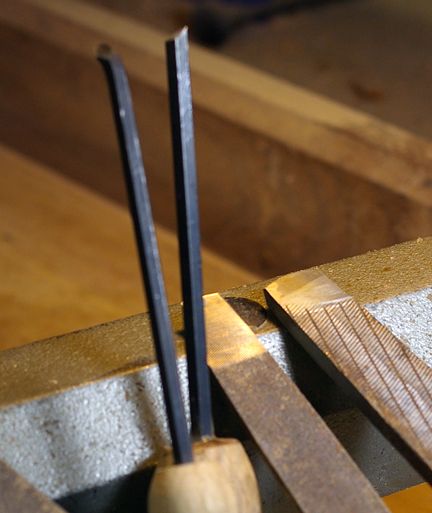 Woodturners today are blessed with the luxury of choice. Dozens of companies make high-quality gouges, skews, and scrapers in nearly every conceivable size. All you need to outfit your shop is a credit card with a healthy available balance.
It wasn't always that way, of course. Until very recently, woodturners made most, if not all, of their tools-heating, hammering, and grinding a piece of carbon steel until it took on the shape and cutting edge they wanted. Japanese turners still make their own tools and have a waterstone next to the lathe to keep the edges razor-sharp.
Some of my favorite tools are homemade. I have a collection of scrapers that I ground from old files. And Beth Ireland, a well-known woodturner and teacher, gave me two lathe tools she made from Allen wrenches. One is a scraper that works rather like a bedan, and the other is a dandy little hollowing tool. I've used Beth's bedan on both wood and aluminum with great results.
Grinding scrapers
Transforming a file into a scraper takes only a couple of minutes. Grind away the teeth on one face, working an inch or so back from the edge. (I know it's wrong, but I use the side of the wheel for this.) Then hold the file at a 15 to 20-degree angle to the wheel and grind the profile you want. I made a couple of square-end scrapers, some with curved edges, and one that I use all the time to cut a dovetailed recess in a bowl blank for scroll-chuck jaws. This one has two cutting faces.
My scrapers cut smoothly and cleanly, but they don't hold an edge as well as tools made from high-speed steel. No problem. With a couple of passes across the wheel, the edge is as good as new. These scrapers aren't as thick or heavy as commercial versions, so they are more likely to chatter if I extend the cutting edge too far past the toolrest. That isn't a problem either; I just get the rest as close to the work as I can.
Cutters from wrenches
Beth Ireland made both of the tools I have from Allen wrenches, the kind with an extra-long leg. For the bedan, she ground away the short leg of a 7/32-in. wrench, ground the end square with an angled cutting face, and ground the two sides at an angle. For the hollowing tool, she ground away most of the short leg of a 3/16-in. wrench and ground the cutting edge to a point. She turned some simple handles, jammed the newly ground Allen wrenches in place, and the tools were ready to go.
Tools like these are meant for detail work or creating small objects. The hollowing tool is ideal for making a coffee scoop, for example. The bedan works well for turning pens, bottle stoppers, and the like. It gets into places where even my smallest spindle gouge won't go.
Why homemade?
For a couple of bucks at a yard sale or flea market, I can buy a handful of old files and Allen wrenches. I get more satisfaction out of making a tool than I do buying one. And with the money I save, I can buy more turning blanks.
Scrapers made from files and Allen wrenches.
An Allen wrench transformed into a small hollowing tool. The cutting end is ground to a V-point.
A tool tailor-made for cutting a dovetail recess. It's ground on two sides, so it cuts the bottom and side of the dovetail simultaneously.