Wanna get sharp? Get a system.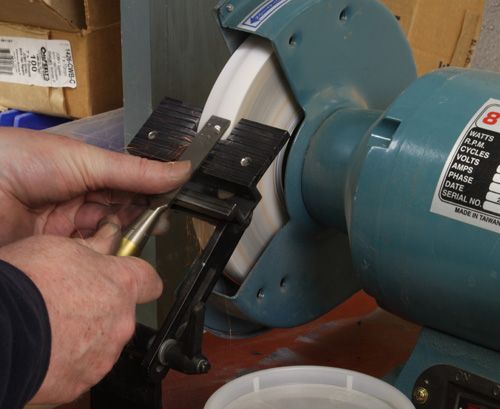 I know plenty of woodworkers who struggle with sharpening. And because of that, I see lots of perfectly good hand tools gathering moss on the shelf. After all, if your tools aren't sharp, they're not going to perform well, so machines become "the only way."
But hand tools will improve your work exponentially. With them, you can incorporate details that could be done only with the kiss of a plane or by careful paring with a chisel. They're also the ideal helper for machine-cut joinery, allowing you to dial in the fit with perfection.
I tell these guys who are struggling that sharpening isn't hard. It's just a matter of finding a system, and sticking with it. Once you have a basic system of sharpening that works, you no longer will sweat it, or dread the process, because it will become second-nature.
And what's great about having a system is that you can always tweak it-perhaps playing with angles-knowing that if your change doesn't work you have a solid base to return to.
My system is a mish-mash of various techniques I've seen in the magazine and on the road, visiting our authors. Now it's no bother to sharpen, and my hand-tool skills have taken a huge jump. My system is simple, but it did take lots practice, and I still have room for improvement.
Start by Grinding the Bevel
I start by grinding the primary bevel. Grinding an expensive chisel or blade can be scary. I nailed my technique by practicing on a cheap beater chisel, purchased at The Home Depot. If you're struggling with this job, check out Joel Moskowitz's article in issue #198 ("Grind Perfect Edges Without Burning"). I got some great tips on setup and technique there. Practice, and you'll do great.
Next, Flatten the Back
I flatten the back next, working up through various grits. I learned the technique from Chris Gochnour. I use waterstones for the most part, but if I have a particularly stubborn blade back, I'll use coarser grits on a granite plate. This is the most time-consuming and labor-intensive step. But be patient, do it right, and remember that it only has to be done once. The key with this job is having a flat substrate to work on.
Hone the Secondary Bevel
Finally, I sharpen the secondary bevel. I use a basic honing guide that clamps the blade between jaws. To set it up, I use a jig with stops that let me set the blade protrusion at the right distance for common angles. I learned that from an article by Deneb Puchalski in issue #213 ("Get Sharp–Fast").
De-burr the Back
Honing leaves a burr on the back that has to be removed. I do that on the final grit stone. After that, the blade is ready to cut.
Sharpening doesn't have to be an obstable. Pick a method, practice and perfect it, and get back to making furniture.
I use an 8-in. grinder on the primary bevel. Keep the blade square to the wheel, and take your time. The machine works fast.
If you have a basic honing guide, a jig like this will help you get the blade set up quickly. It has stops at common sharpening angles. When placed in front of a stop, the shim in the foreground adds 2 degrees to the setting.
Even new chisels and blades have to be flattened and polished. This one needs a lot of work.
To flatten the back, I use a variety of grits. Typically I start with a 220 grit waterstone (here I'm using the same grit in a diamond plate). But if there's a lot of work to do, I'll glue coarser sandpaper (150 or 180 grit) to a granite plate and start from there. I move to 1,000, 4,000, and finish with 8,000 grit.
I alternate between running the blade on the stone side to side and forward and backward. I change direction each time I change grits. I know I'm ready to move on when the scratch pattern made by the previous grit is erased. Here, I'm almost ready to change.
Now that the back is polished, the blade is ready for honing.
Set the blade to the right projection using a stop, and then tighten the jaws of the honing guide.
When honing the secondary bevel, I start with 1,000, and progress to 4,000 and 8,000 grits.
After finishing the secondary bevel, I remove the burr on the back using the 8,000 grit stone. Then the chisel is ready to go.