A Nutty Alternative to SawStop Technology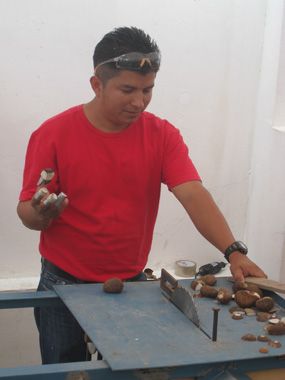 Ever since the now infamous Carlos Osorio tablesaw lawsuit, woodworkers around the country have really zeroed in on tablesaw safety and the potential effects of new CPSC legislation on the price of workshop machinery. In South America however, most folks either don't have the cash required to purchase an expensive safety-conscious saw, don't have access to the technology, or just aren't as dialed into tablesaw safety as the developed world might be.
While in Montecristi, Ecuador recently I visited a craft shop that produces a variety of items like jewelry and buttons fashioned from tagua nuts. Tagua nuts, also called vegetable ivory, come from 15-18 foot tall palm trees which grow in tropical rain forests. The nuts are typically about 2-in. in diameter, and the first step in making an item is to slice the nut into the desired shape or thickness. Due to the hardness of the nut, a tablesaw is used for the slicing procedure.
So imagine my surprise when the demonstrator slipped a set of metal guards onto his fingertips and proceeded to saw off a series of slices using his fingers to hold the irregularly shaped nut. This is their standard operating procedure, no joke! No Sawstop, no holding fixture, no concern about tablesaw safety, just metal-tipped fingers within an inch of the blade. Luckily the operator still had all of his fingers intact.
It really makes a person think: perhaps we take our access to modern woodworking equipment for granted!
Don't try this at home. In the village of Montecristi, Ecuador, woodworkers don't really have access-or funding-for modern, safety-conscious woodworking equipment.
This craftsman is slicing tagua nuts for use in the production of buttons and jewelry.
Something tells me these shopmade finger guards do more to put the craftsman's mind at ease than actually protecting him.